Parks & Rec
Future policy on use of e-bikes still in contention
New report hopes to assist decisions about electric bicycle use on public lands
December 18, 2022 at 5:00 a.m.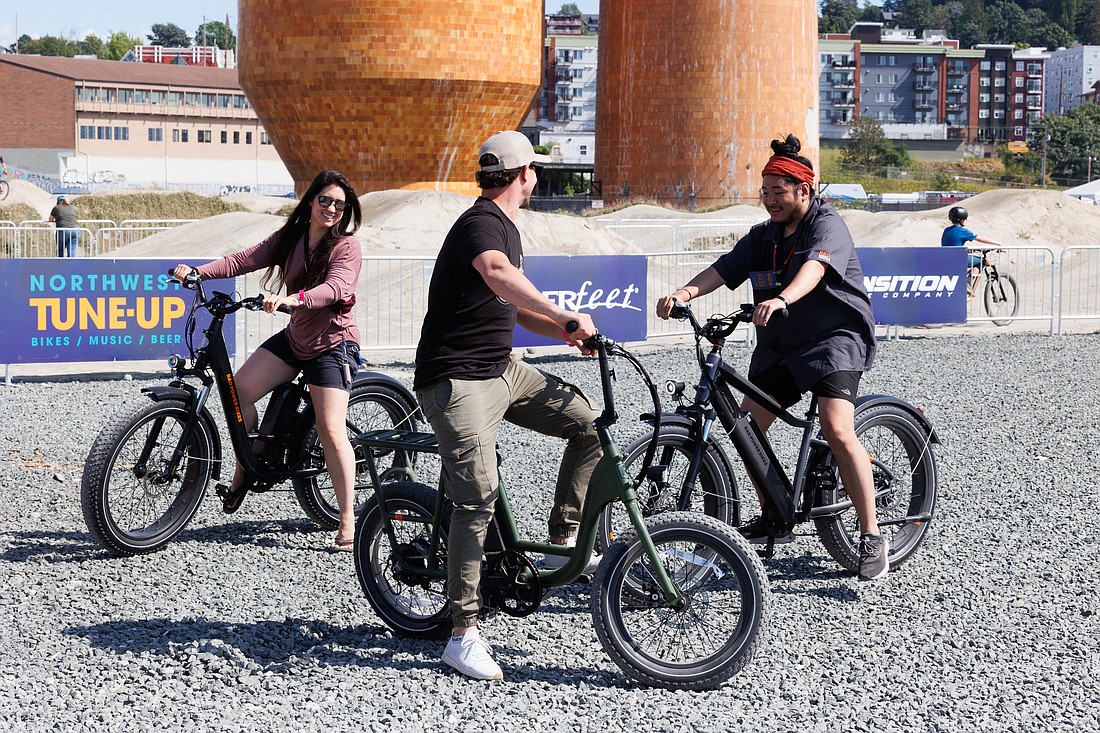 ---
---
Policymakers face mounting questions about the best way to manage electric bicycles on public lands, a nationwide study by the Federal Highway Administration found.
A 56-page report released this week outlined 14 key findings, including the long-term impact on the environment, safety risks and health benefits, and the use of e-bikes by emergency workers. The report is designed to help public land managers create better policies in response to the rising popularity of battery-powered bikes.
"If anything, hopefully, this gets federal lands to do more investigation to build out and understand what the true issues are," said John MacArthur, of Portland State University's Transportation Research and Education Center.
An agency spokesperson said in an email Wednesday the first installment in a series of ongoing studies by the U.S. Department of Transportation is a road map for future research.
"The primary goals of this report were to build consensus on critical questions related to e-bike use in public lands, encourage future research to answer them and use findings from the research as a basis for science-based, data-driven decision-making," the spokesperson said. 
MacArthur, who contributed to the report's technical aspects of e-biking, said independent, third-party studies are needed to produce definitive data about e-biking's benefits and its negative impacts.
Proponents champion e-bikes for lower emissions and easy transportation, particularly in urban centers. The battery-operated bikes also have improved access to challenging trails for those physically unable to pedal uphill without a motor.
However, some conservationists worry their presence on public land adds stress to fragile wilderness areas and could lead to more people visiting remote places with an e-mountain bike (e-MTBs) range estimated from 20–40 miles.
The industry also is witnessing rising public concern over exploding lithium-ion batteries that have caused fires. The New York Fire Department attributed 202 fires, 142 injuries and six deaths to the batteries in 2022. The federal report did not address the battery fire issue.
The Highway Administration has taken the lead on e-biking research to help the National Park Service, Bureau of Land Management, the U.S. Forest Service and the U.S. Fish and Wildlife Service with their transportation needs. Researchers want to determine whether electrified bicycles will fundamentally change how people access federal lands and what they do there with e-bikes.
The National Park Service allows Class 1 e-bikes on trails that permit regular mountain bikes. The U.S. Forest Service classifies all e-bikes as motorized vehicles that must follow the same guidelines as other vehicles.
The Cascadia Daily News reported in June that state and federal land managers have struggled to strike a balance on where to allow e-MTBs.  
MacArthur said not much research had been done on e-MTB usage compared to traditional e-bikes.
"That was the main objective of the work," he said. "Where are the gaps, and how are we going to fill those gaps of knowledge?"
For example, the Highway Administration report said researchers found only one study on the natural resources impacts of e-MTBs. A nonprofit mountain bike advocacy group, the International Mountain Biking Association, sponsored a study in 2016 that said conventional mountain bikes and e-MTBs produce similar impacts. The report also said stress on paths used by mountain bikers is probably the result of poor trail design and maintenance.
Managing e-MTBs is particularly important to Whatcom County cyclists where mountain biking is a popular outdoor activity.  
Galbraith Mountain has been a nationwide model for managing access through an agreement with the city of Bellingham, landowner Galbraith Tree Farm and the Whatcom County Mountain Bike Coalition.
The managers have not enforced e-MTBs on Galbraith, the coalition website said.
"We are in discussion with the city's attorney regarding e-MTB access (both current and future) and what that will look like on Galbraith," the website said.
Coalition leaders have proposed permitting riders with disabilities full trail access on e-MTBs. They also call for a pilot project to gauge general electric mountain bike use on the mountain.
Washington state lawmakers also seek better information before updating their policy on the use of e-MTBs on public lands. They directed the Natural Resources and Fish and Wildlife departments to collaborate in the summer to survey stakeholders, including tribal nations, on the issue of permitting electric mountain bicycles on state lands. The work tackled many of the issues identified by the Federal Highway Administration.
The state agencies found divergent and polarized opinions on where e-MTBs should be allowed. 
In a 194-page legislative report released on Sept. 22, agency officials said it found about the same percentage of responders who wanted e-MTBs banned from any non-motorized trail as those who supported allowing the bicycles on such trails. The report focused on electric mountain bikes and not the e-bikes seen on roads and greenway trails around Bellingham.
State staffers found many of those commenting expressed concern about the speed, safety and user conflicts brought about by the use of e-MTBs, particularly on multi-use trails. 
Those surveyed also worried about increased soil erosion from electric mountain bike use, impacts on trail tread and the agencies' ability to enforce e-MTB policies once laws are updated.
Washingtonians want a clear and easy-to-understand policy that aligns with land managers' policies, the report said. 
Electric mountain bikes, which cost as much as $10,000, are grouped into three classes. But they all must have motors that cut off above a certain speed and can produce no more than 750 watts, or about one horsepower.
Washington state lawmakers adopted a policy in 2018 that classifies e-bikes as bicycles. The law also states that all non-motorized, single-track trails are closed to e-MTBs on state property unless permitted by the local land manager with posted signs.
Elliott Almond's outdoor column appears monthly. Email: elliottalmond4@gmail.com.