Government
Federal spending package funds infrastructure, educational projects
Funded projects include WTA electrification, WWU longhouse
December 27, 2022 at 2:53 p.m.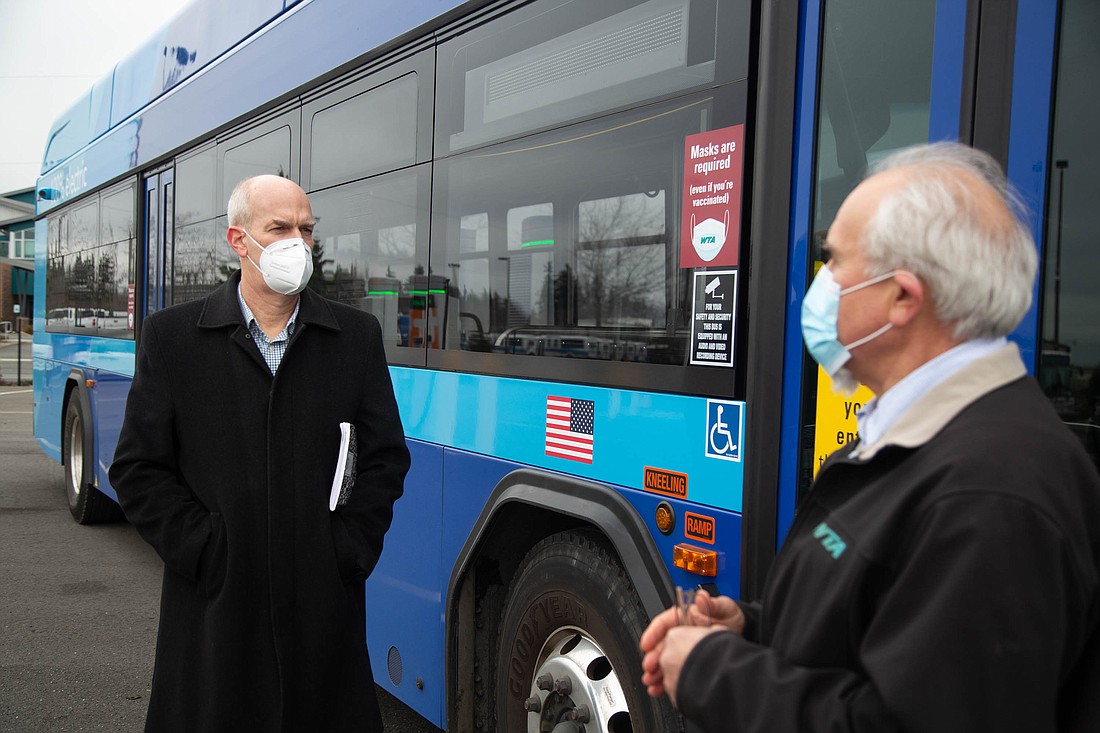 ---
---
Millions of dollars in funding are set to go to projects in Whatcom, Skagit and San Juan counties thanks to a federal omnibus spending package approved by Congress on Dec. 23, according to a news release from U.S. Rep. Rick Larsen.
The $1.7 trillion package, which was passed by Congress to avert a shutdown and fund the government through 2023, includes over $31.5 million earmarked for 15 projects requested by Larsen across the Second Congressional District. Whatcom, Skagit and San Juan counties were awarded funding for two projects each.
The Whatcom Transportation Authority (WTA) will receive $2 million to purchase three new electric buses and install chargers. These funds come on the heels of an $8.9 million federal grant given to WTA in August through the 2021 Infrastructure Investment and Jobs Act, which allowed for the purchase of eight new electric buses and chargers.
After all 11 of the buses for which WTA received funding this year are ordered, about a quarter of its fleet — 15 buses out of 61 — will be electric-powered, according to Maureen McCarthy, WTA's public information officer.
"We're pleased that within this year, we've been able to see a sharp increase in our ability to transition over to zero-emission buses," McCarthy said in an interview. "We have two and we had two on the way, and this year we've been able to see some significant progress in moving in this direction."
Bellingham City Council member and WTA board chair Michael Lilliquist said WTA thanks Larsen for his leadership in moving transit agencies to cleaner buses. 
"Funding this project will accelerate WTA's ability to implement our goal of transitioning our fleet to zero-emission buses by 2040 or sooner, while at the same time maintaining high levels of service across Whatcom County, especially in neighborhoods and rural communities that need it the most," Lilliquist said in the release.
Also in Whatcom County, Western Washington University will receive $450,000 to "invest in commercial kitchen appliances and educational programs at its Longhouse, with the goal of supporting food sovereignty and security for WWU's Native students, while enhancing educational programming and community functions," the release stated. 
Western has been eyeing plans since around 2015 to construct a Coast Salish longhouse on its campus to serve as a community space for Indigenous students.
"The Longhouse project is for a gathering space, and included in that is an indoor [and] outdoor kitchen for use by the Western community and surrounding community," Western Tribal Liaison Laural Ballew said in an interview. "A lot of our culture is about food, so it's important that [the] kitchen was included in the space."
"Our hands go out to Rep. Larsen for answering this call, and to the Legislature and everyone who is supporting this project for our Native students, faculty and staff," Ballew added. "It's so heartwarming to know the support that we're receiving for this project."
In Skagit County, the Public Utility District will receive $2 million to relocate the waterline and construct a new culvert across Interstate 5 at Alger to improve fish access. 
Elsewhere in Skagit County, the Samish Indian Nation will receive $750,000 to help rebuild the Tommy Thompson Trail trestle in Anacortes after it partially burned down in August. The federal funds will allow the Tribe to "invest in preliminary engineering" to replace the trestle and "play an incredible role in removing its toxic creosote" pilings from the bay, according to Samish Indian Nation Chairman Tom Wooten.
In San Juan County, $5.28 million will go toward building a 2.5-mile trail between Friday Harbor and Zylstra Lake Preserve, and $650,000 will fund the reconstruction of a barge landing and access road at the Port of Friday Harbor. The projects are "essential for the residents and businesses on San Juan Island and the non-ferry served islands in San Juan County," Port Executive Director Todd Nicholson said in the release.