Community
Bob Woodward: human before journalist
Iconic journalist speaks of "Trump Tapes" during Bellingham visit
November 13, 2022 at 2:33 p.m.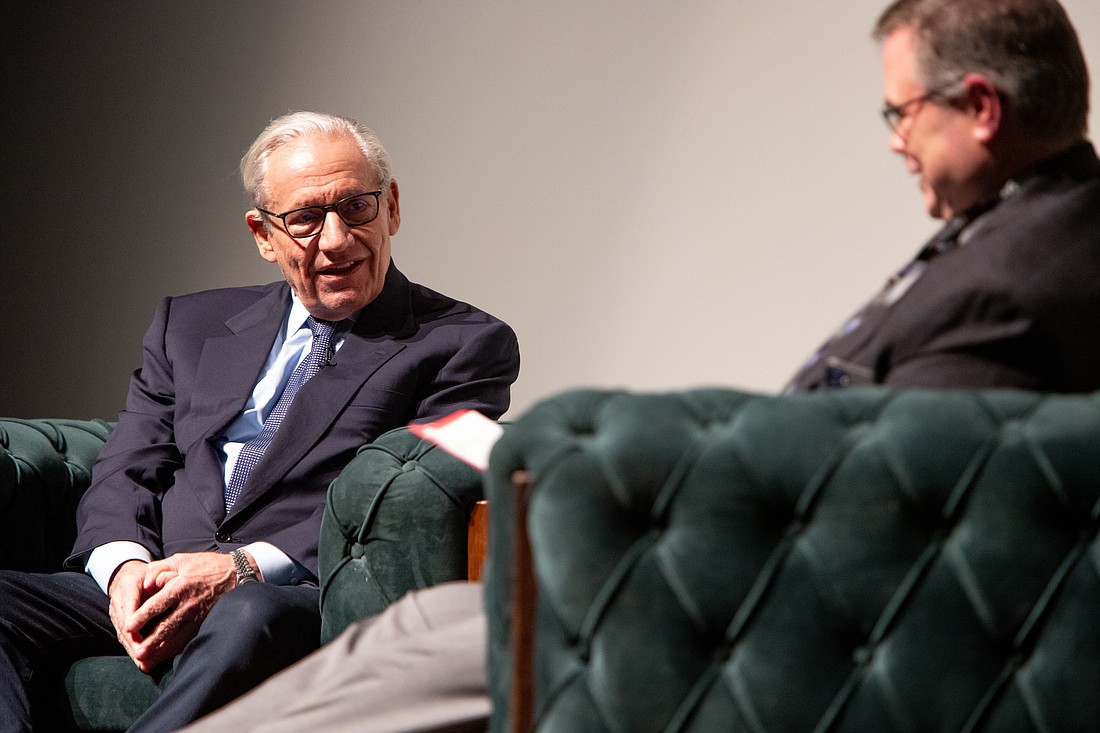 ---
---
Legendary journalist Bob Woodward has interviewed and written histories of 10 U.S. presidents, but in a Saturday night Bellingham visit, his focus quickly turned to the most challenging.   
Former President Donald Trump, Woodward has said, loomed large on the ballot in last week's midterm election. Trump also is the focus of Woodward's latest release, the bestselling annotated audiobook "The Trump Tapes," released Oct. 24.  
Discussions of the former president dominated the nearly two-hour conversation. The eight hours Woodward spent in 20 interviews with Trump during national crises, such as the COVID-19 pandemic, and fears of nuclear confrontations with North Korea, played out before a large crowd at the Mount Baker Theatre.   
During a two-year period of Trump's presidency, almost every room in Woodward's house had a tape recorder on hand for impromptu calls from the 45th president, which were common, Woodward said. The interviews often left Woodward stunned and baffled at Trump's seeming inability to grasp the primary task of any president — protecting the American public.  
"There's a sacred trust every president has with every citizen to look out for them, and he failed miserably," Woodward said of Trump.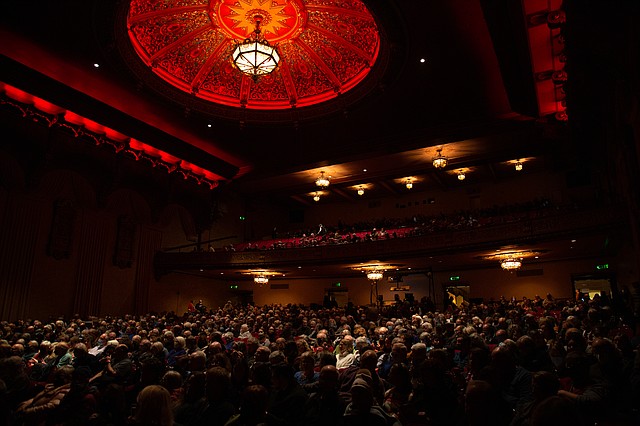 Woodward, in an onstage conversation with Ron Judd, executive editor of Cascadia Daily News, kept the crowd's attention with behind-the-scenes details of historical events, taken from decades of in-person access to U.S. presidents and others surrounding them in the White House. 
 At 79, Woodward still holds the title of associate editor of The Washington Post, and admits his later work is an unusual combination of journalism and historical research. Woodward previously spoke to Judd about his motives behind this release and his reporting methods. 
 He began reporting for The Post in 1971 and in 1972, and along with colleague Carl Bernstein, did much of the initial reporting on the Watergate scandal, resulting in Nixon's 1974 resignation. The investigation and resulting book and film "All the President's Men" are credited with inspiring generations of young U.S. journalists. 
Saturday, Woodward drew a sharp contrast between previous presidents — who he said always appeared to attempt to keep "the national interest" front and center — and Trump, whose own interests seemed to leave no room for that.  
Woodward, who drew cheers when mentioning the recent Democratic Party Senate win, told the audience that U.S. voters might have finally begun to make that national interest their own. 
Trump, he said, seemed incapable of grasping the concept. Woodward played a snippet of a Trump recording in which the former president said he had many people offering him ideas, but those ideas were his. In fact, "Everything is mine!" Trump proclaimed.  
Trump "didn't care about the people," Woodward said. The former president misled the public and even his own son, Barron, then 13, about COVID-19, a pandemic resulting in globally more than 3 million deaths, according to the World Health Organization.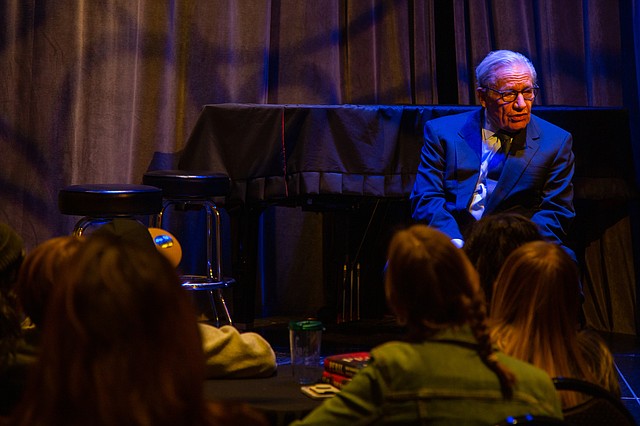 Woodward said Trump's National Security Adviser, Robert O'Brien, told him Trump had been given a warning that Woodward described as the gravest he has ever seen given to a commander in chief: "Coronavirus will be the biggest national security threat to your presidency," O'Brien said.   
Trump was aware of the deadly dangers of COVID-19 months before he told the world.   
"I was stunned," Woodward said.   
Woodward conceded that discussing the COVID-19 pandemic with Trump often tested his traditional view of journalistic objectivity. He recalled one conversation in which he read to Trump a list of suggested actions against COVID-19 drawn up by health experts he had interviewed. 
 "I'm the carrier pigeon of expert information to the President of the United States, who won't listen," Woodward said. "So, I was shouting at him."   
Woodward's wife, Elsa Walsh, told her husband it sounded like he was telling the president what to do and, as a journalist herself, found it troubling.   
He agreed but said the unique situation merited a unique response — one that he believes his late mentors, legendary Washington Post editor Ben Bradlee and publisher Katharine Graham, would have endorsed. 
"You have to be a human being before you're a journalist," Woodward said. If you see someone shot on the street, the first thing you do isn't call it into the office — you help, he said.   
Woodward acknowledged one reason he released the tapes, aside from highlighting the threat of a possible second Trump presidency, was that he did not want to be discovered having kept them private after he died. Judd asked if there were any other tapes that might be of similar interest.  
"That's a great question and I'm not going to answer that," Woodward said to audience laughter.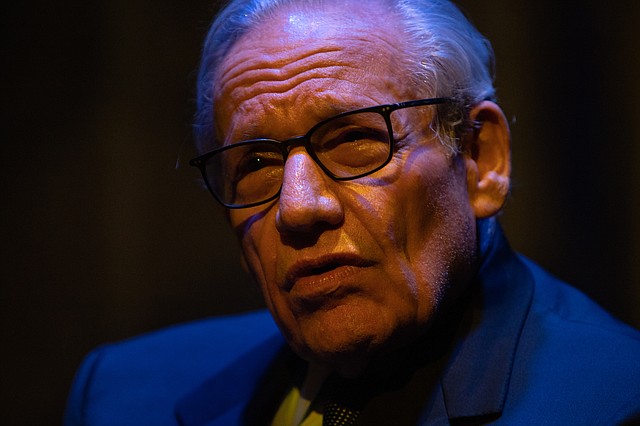 Woodward recounted hearing President Barack Obama tell him his biggest fear was a nuclear weapon exploding in an American city, showing his inherent concern for his citizens. Even President Nixon, at the end of his time in office, understood the effect his actions had, Woodward said, recalling Nixon's farewell speech.   
"Always remember, others may hate you, but those who hate you don't win unless you hate them, and then you destroy yourself," Nixon said.  The poison in his administration was that hate, and for at least that moment, he was self-aware, Woodward said.   
Audience members said they appreciated the scope of Woodward's experience. 
"I think perspective is really important and the history matters, and he's been there through all of it," audience member Keith Drazek said. Drazek was originally from Washington, D.C., and grew up hearing and seeing Woodward speak about his work.  
In a side room at Mount Baker Theatre, Woodward later spoke to a group of Western Washington University journalism students, urging them to work hard and challenge conventional wisdom — a lesson he learned himself even later in his career, covering subjects such as the invasion of Iraq, when most reporters believed that Iraqi dictator Saddam Hussein possessed weapons of mass destruction. 
Woodward said he had heard from a senior CIA official that there was no smoking gun intelligence of such weapons. But he said he fell victim to "the relentless momentum of the status quo," and buried that information in his story.  
"I was stupid. I made a mistake," he said, urging students to not be afraid of giving credence to outlying takes on issues.  
Students said they appreciated the opportunity to rub elbows with the reporting legend. 
"It really reinforced my love for journalism to see him and hear his stories," said Josh Solórzano, a Western journalism student and Society of Professional Journalists officer.