Community
Whatcom fights food insecurity ahead of Thanksgiving
Food banks and free meals help dignify holiday
November 22, 2022 at 2:56 p.m.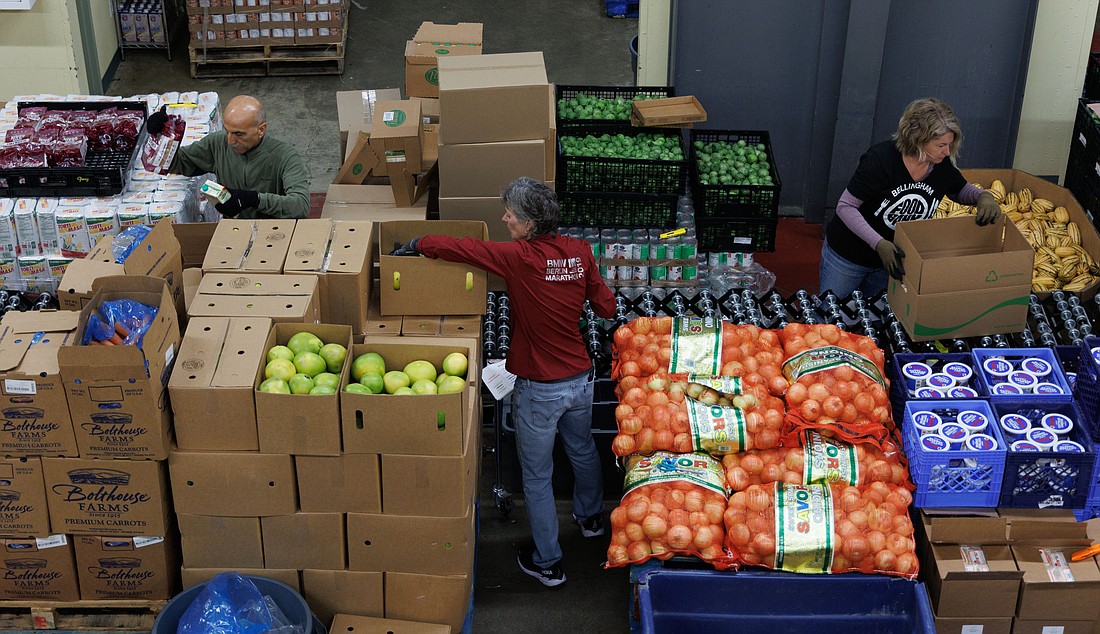 ---
---
Organizations, businesses and citizens across Whatcom County are stepping up to ensure everyone can enjoy the upcoming holiday, free of financial barriers. 
County food banks and pantries have been stocking up on turkeys and other Thanksgiving-style groceries, and several organizations will host a free meal on Thursday. 
Mike Cohen, executive director of Bellingham Food Bank, said he anticipates they will have served around 4,000 households in the week leading up to the holiday during a year that has already seen record-high demand. 
"There's a little bit of hysteria around the holidays which increases [demand] ... mostly after that prized, large protein that families expect to be able to offer for themselves and their guests on Thanksgiving, regardless of their income status," Cohen said.
"It's nice that we've been able to get such generous support so people can feel whole on Thanksgiving. I know it's a very tough situation for families when they can't afford something that people really associate with ... a typical Thanksgiving," he added. 
Individuals, organizations and businesses historically have supplied turkeys to food banks around the holidays. This year, Mike Hammes — owner and CEO of RAM Construction General Contractors, LLC — and the Bellingham Bay Rotary Club bought 2,000 of the big birds for the food bank, Cohen said. 
Brown & Brown of Lynden's 11th-annual Turkey Drive raised enough for 264 turkeys to be distributed by Lynden's Project Hope and the Bellingham Food Bank, according to Whatcom-based publicist Dave Brumbaugh. 
While Cohen said donations tend to flow in around the holidays, food insecurity is a timeless issue. Cohen said the food bank has been consistently supporting about 3,600 households every week, which is "twice as busy as we were before, during and just after COVID." In May, the food bank served the highest number of households in its 40-year history.
"A lot of people really think about hunger around Thanksgiving and Christmas, which is great, but the sad reality is that far too many families are food insecure 52 weeks a year," Cohen said. 
For Bellingham residents who don't plan to cook but seek a hot meal, Lighthouse Mission Ministries will host its annual Thanksgiving dinner from noon to 1:30 p.m. on Thursday at the Church of the Assumption's gymnasium, 2116 Cornwall Ave. 
Lighthouse Mission President and CEO Hans Erchinger-Davis said it's the first year since the onset of COVID-19 that the organization has been able to open up the meal to anyone in the community. 
In years past, the event has drawn anywhere from 250 to 400 people, Erchinger-Davis said. This year, the organization is prepared to serve up to 500 people. 
"I know a lot of people missed having it at the Assumption Church gym, so I suspect we'll have a pretty good chunk of folks," Erchinger-Davis said. 
Donations are the fuel of the event; each plate costs about $2.17 to fill. The meal takes around 60–70 volunteers to put on, and the minds behind the meals are a mixture of Lighthouse Mission's in-house chefs, interns and volunteers. Three to five more volunteers would help fill vacancies, Erchinger-Davis said. 
Lighthouse Mission has been hosting the meal for 99 years. It began as a way to feed loggers, nomadic workers and fishermen who didn't have families or partners in the area. Today, the event serves anyone from homeless individuals to tribal members, youth, families and elderly individuals on fixed incomes. 
It's important to bring dignity to the meal, and Erchinger-Davis said guests are treated to a restaurant-style experience. The feast will feature roast turkey, stuffing, garlic mashed potatoes, gravy, sweet potatoes, green bean casserole, salad and plenty of pies. 
Coffee and Sandwiches Together (CAST), a volunteer-run food security program, will also be feeding the masses on Thursday, handing out ham and cheese, and turkey sandwiches; banana bread; cookies; and fresh oranges from 6–7 p.m. at the Arch of Healing and Reconciliation behind Bellingham Central Library, 210 Central Ave.