Business Matters
Walmart stores in Whatcom and Skagit to drop single-use bags
Retailer's move part of 'zero waste' initiative in Washington, other states
April 12, 2023 at 4:50 a.m.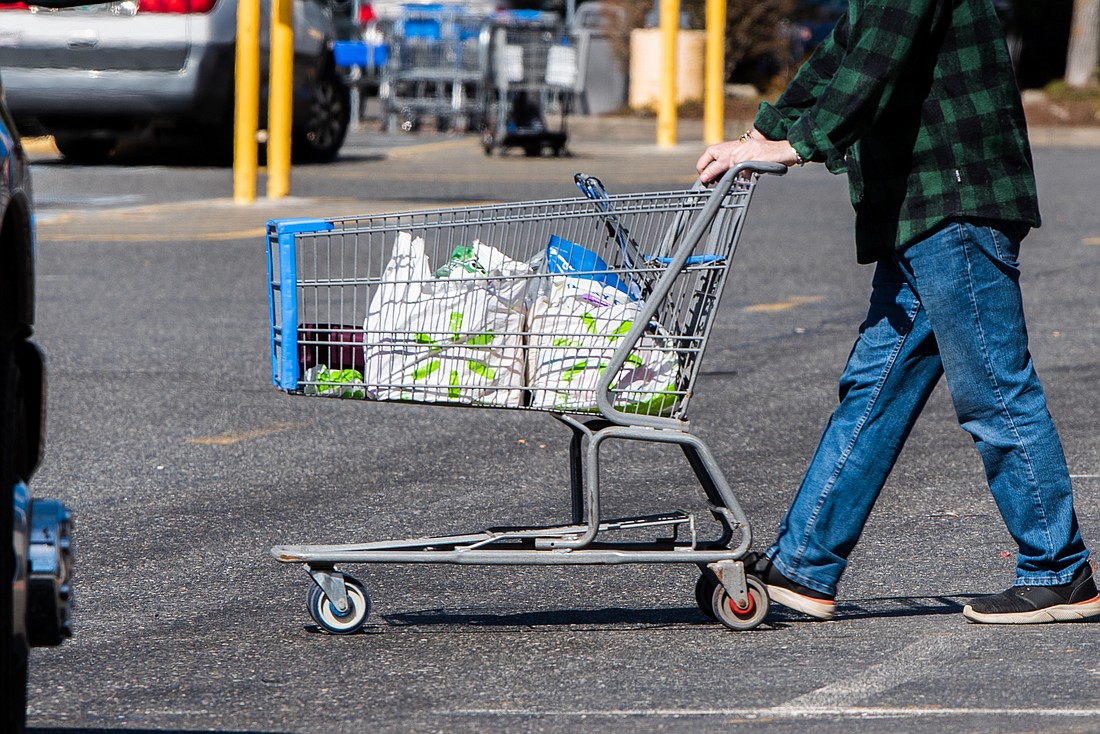 ---
---
No paper or plastic. The nation's largest retailer is going bagless in Bellingham, Mount Vernon and the rest of Washington state — unless you bring your own. Or are into the lowest-priced in-store alternative, canvas. 
Starting Tuesday, April 18, Walmart said it will eliminate all single-use paper and plastic bags at checkouts statewide. The effort, according to a Walmart news release, is part of a push to "zero waste." 
The retailer said as of January, paper and plastic were no longer in use at stores in six U.S. states as well as Walmart locations in Canada and Mexico. This month, that total will rise to eight states with the addition of Oregon and Washington.
Washington state banned single-use plastic carryout bags in October 2021. Instead, large paper or potentially multi-use thick plastic bags could be offered for 8 cents each. (Bellingham had its own longtime ban on thin plastic bags at retail that was superseded by the state ban.) 
Walmart's move ends the 8 cent options at checkout. But if you need a new bag when shopping, you're covered for under a buck.
"The cheapest one we have is like 74 cents," Bellingham Walmart Store Manager Chad Wemple said of the several reusable alternatives the retailer is stocking. "The important thing is keeping things at a low price point for our customers."
In this particular case, the tote is canvas. "They're actually a very sturdy bag," he said.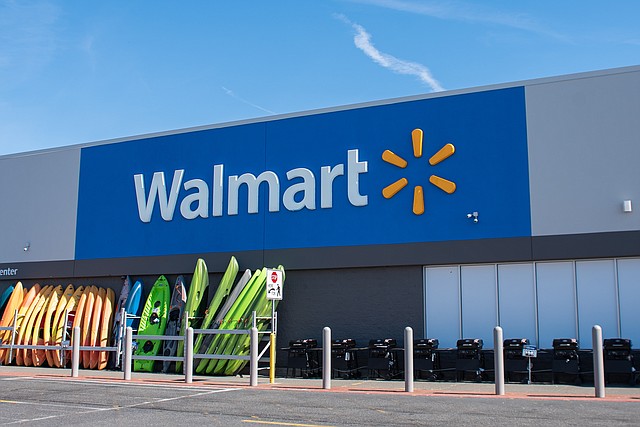 Wemple said customer reaction to the end of single-use bags at checkout has been consistent and positive. He said signs were posted at the main door and every register, all cashiers were trained and social media posts were planned. 
If someone forgets a bag in the early days of the switch? 
"That Tuesday, Wednesday and Thursday, we have a set amount of bags we are going above and beyond to give our customers who are going through checkout, a free [canvas reusable] bag," Wemple said. "We're trying to alleviate a frustration for our customers who may not know."
Walmart will continue to use paper bags for delivery and the company announcement said some types of single-use bags will be provided "in areas that prevent food contamination or as required by law" inside the store.  
Should customers still have some legacy plastic bags at home they want to get rid of, Wemple said to bring them in. The store's recycling containers remain in place. "Our whole goal is to reduce plastic waste," he said.
Unemployment climbs
Whatcom and Skagit counties' monthly unemployment rates continued to move up in February to 6.3% and 6.8%, respectively. The non-seasonally adjusted data from the state Employment Security Department boosted Whatcom from (a slightly revised) 5.5% and Skagit from 6.0% in January. 
The climb began after September 2022 and rates in the two counties now sit at their highest levels since then. Statewide, the seasonally adjusted unemployment rate was flat in February at 4.6%. 
WWU career fair
Western student or alum looking for a new job with a local company? Make a calendar note for the afternoon of Thursday, May 18. That's when Western Washington University will host a "Career, Internship & Education Fair" featuring employers just from Whatcom and Skagit counties.
The career fair website said employers "must have an established physical location in Whatcom and/or Skagit counties" with priority given to those "offering degree-preferred, full-time positions and/or internship opportunities." Employer registration ranges from free (fewer than 10 employees) to $300 (more than 250 employees) and needs to be completed by May 12.
While the Career Services Center said the intended audience for the fair is students and alumni, anyone can attend and entry is free, 1–5 p.m. May 18, at Wade King Student Recreation Center's MAC gym. As many as 80 employers — said to be the gym's capacity — will be represented.
Cash not king
With median home prices in Whatcom County around $575,000 ($559,000 if manufactured homes are included) based on one recent analysis through February 2023, paying for the purchases continues to be mostly with funds from a conventional mortgage.
New figures pulled from Northwest Multiple Listing Service data by Gennie Clawson, a real estate agent with Compass Real Estate in Bellingham, found that in the first quarter of 2023, 56% of single-family home, condo and manufactured home sales in the county were financed through a conventional mortgage. That's slightly down from the 60% figure for all of 2022.
Cash is second, and the percentage of cash deals has slightly increased for all housing types, from 29% in full-year 2022 to 32% in first-quarter 2023. The balance is federal program financing (FHA, VA, USDA) at 6% in 2022 and 8% in Q1 2023, followed by other kinds of sales in the low single digits.
"Cash buyers are typically those with earned equity from a prior home and are able to relay that into a cash purchase for the next," Clawson said. "As real estate prices have so swiftly accelerated, we saw quite a lot of cash transactions last year."
People
Monique Brigham has been named executive director of the Sedro-Woolley Chamber of Commerce. Brigham had been serving as interim executive director and earlier was the chamber's membership and events coordinator. Brigham, who said she was born and raised in Skagit County, owned Plumeria Breezes Travel prior to joining the chamber.
Places & Things
The Fat Beet announced it will open Friday, April 14 in downtown Bellingham in the space of the former Quantum Leaf. The "100% vegan contemporary casual eatery" at 1149 N. State St. is owned by Melissa Sorinsin and Talia Sorinsin-Allen. 
The new owners closed Quantum Leaf after acquiring it to make changes, including the name. A pun-laden Facebook post preceded the name reveal, which they wrote they'd "bean thinking about" for a while and it was "kind of a big dill."
(For the latest Places & Things, check here throughout the week.)
Frank Catalano's column appears Wednesdays. Email: frankcatalano@cascadiadaily.com; Twitter @FrankCatalano.