Business Matters
Local hot sauce brand on fire after 'world champion' award
Funky's Hot Sauce Factory in Bellingham adding distribution, equipment, varieties
February 1, 2023 at 5:20 a.m.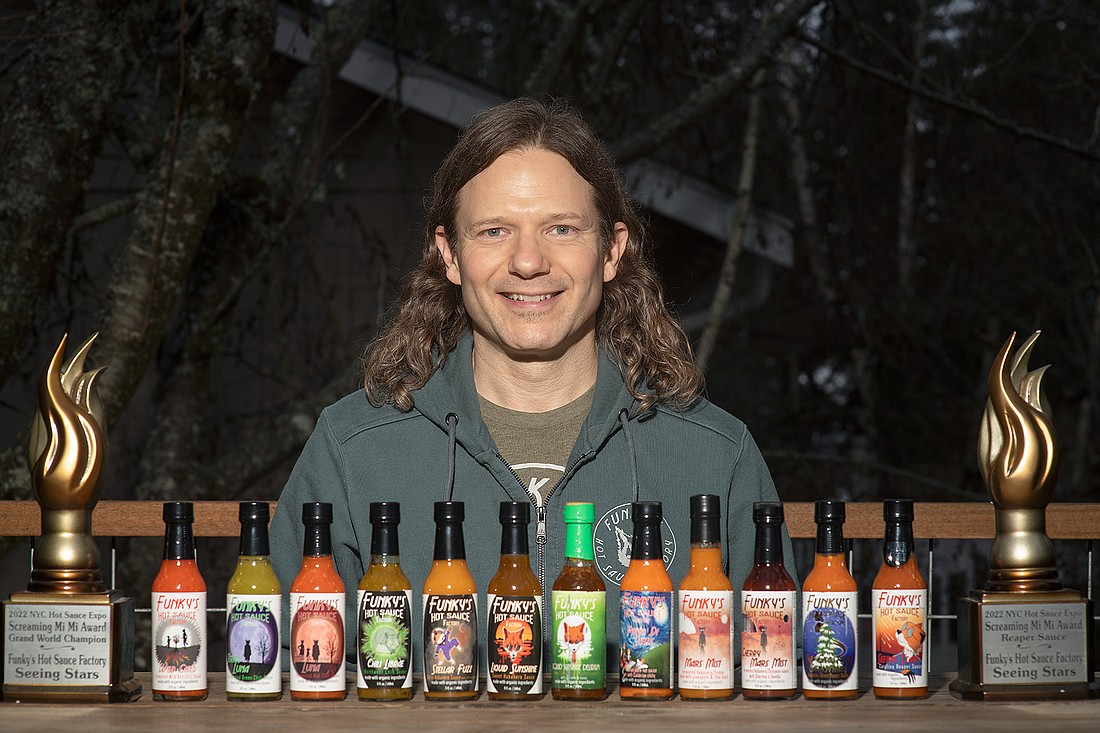 ---
---
Acid Ball ahead. The story has all of the hallmarks of an inspirational documentary short. Hot sauce entrepreneur Matthew Mini builds a one-person business from backyard experiment to winner of Grand World Champion honors at the 2022 NYC Hot Sauce Expo. Roll spicy end credits.
Except, in the real world, that's when a new set of business challenges kick in. 
"Please be patient as we process the 100's of online orders that we've received over the last couple days," Mini wrote in a Facebook post for his Bellingham-based Funky's Hot Sauce Factory last October, less than a month after receiving the award, with the hashtag #growingpains. "There are only two of us and we're doing our best to pack, ship, respond to messages, phone calls and make more sauce."
Now, four months post honors, founder Mini — of what is technically Mini Foods LLC, operating out of a commissary kitchen in the Irongate neighborhood — said the flood of orders continued "right up until New Year's." The initial award-driven surge in interest led him to temporarily mark everything as sold out on Funky's website and switch the e-commerce backend to the "very efficient" Shopify.
"We put the inventory back up and worked through it," he said. "I was making three or four batches of sauce a week, just to catch up. We got caught up, we were able to get through it all, but it was pretty hectic."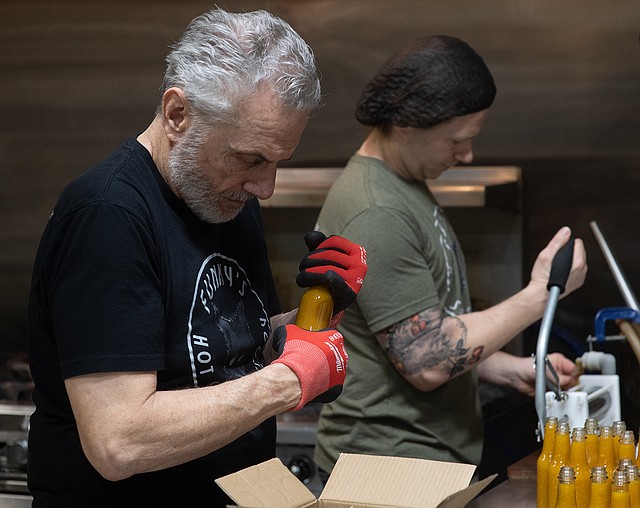 It's commercial validation that's years in the making. Mini said he got started in 2005 after growing peppers in his suburban backyard and "when it came time to harvest, I had run out of things to do with them so I started experimenting with making sauce." He was then working as a bartender at Russian River Brewing Company in Santa Rosa, California. 
"There was a great community of fermenters in town and they frequented the restaurant and we talked all the time," he said, "so between the owner coaching me and the community, that's how I learned about fermentation."
He gave away the sauces as holiday gifts for years, he said, then moved to Bellingham in 2015 and officially started the hot sauce business in 2019. 
But, he said, it was a one-person operation. "Up until winning the awards I didn't even have any assistance with bottling, et cetera," Mini said. "I did it all myself." Today, he said, his father helps him with bottling sessions and his wife pitched in to assist with shipping "the huge influx of orders we've received." 
The varieties of hot sauce, billed as "100% vegan, gluten free, non-GMO and mostly organic," are sold in 5-ounce bottles bedecked with whimsical illustrations of Funky's fox mascot: backlit by the moon on Terra Luna's label, or wearing a spacesuit for Stellar Fuzz.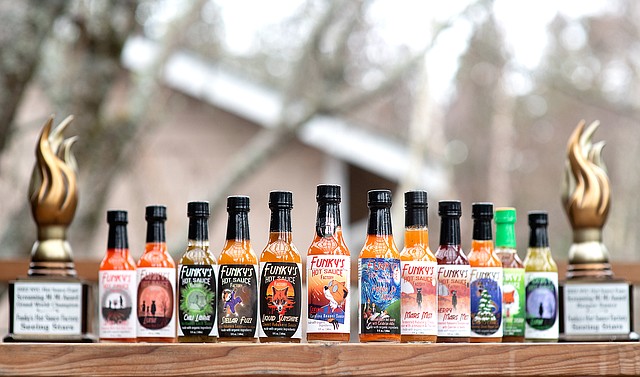 The level of intensity varies across the dozen varieties, but for the newbie seeking both heat and flavor, Mini recommends Stellar Fuzz. "It's kind of middle-of-the-road level heat. It's hotter than medium, but it's not over the top," he said, "a very accessible habanero sauce."
While he'd prefer not to disclose revenue, Mini said business in 2022 had grown to the point where he "basically quit my day job last summer." He said he'd also been taking handyman jobs.
The significance of last fall's awards in a field of 400 total entrants — they included a Screaming Mi Mi Reaper Sauce first place honor for its Seeing Stars — has led to "considerably more national attention," Mini said, spurring plans to increase distribution, capacity and varieties.
Mini said three big deals subsequently came through with hot sauce-centric distributors in Canada and the Eastern and Western U.S., in addition to Funky's current shelf presence in Haggen grocery stores, several food co-ops and independent area retailers "plus some places in Oregon, Massachusetts and California." 
That increased distribution means taking out a small loan to enable Funky's "to triple our batch sizes" with new equipment, including a 60-gallon kettle and automated bottle filler. "It will greatly improve production," he said.
A third expansion step? More hot sauce varieties, a number that has already grown from three in early 2021 to a dozen two years later, counting seasonal and limited releases.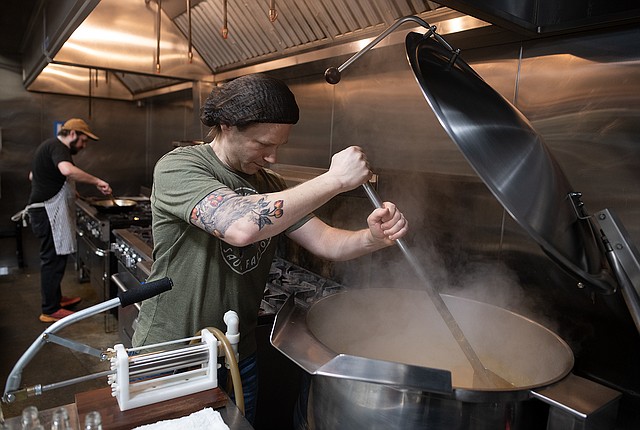 "There's actually going to be 14 in another two months," Mini said. "I constantly have ideas for new sauces." One of the two new varieties will be a collaboration with Garden Path Fermentation in Burlington. "It's very much a locally sourced ingredients sauce," he said.
The second is a red habanero-based sauce. "It's pretty hot," he said. "And it's going to be called Acid Ball." Yes: named after that acid ball on Bellingham's waterfront. 
Mini does plan to enter Funky's sauces into competition again this fall. It'll be different.
"We will actually be at the NYC Hot Sauce Expo this year," he said. "The one where we won the award? We weren't present for that, but we submitted our sauces. But we'll actually be there this time."
Places & Things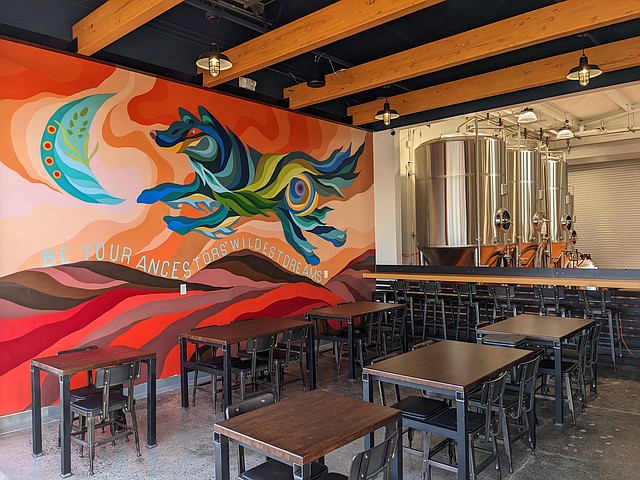 El Sueñito Brewing Company & Frelard Tamales has set Friday, Feb. 17 as its grand opening date at 1926 Humboldt St. in Bellingham's Sunnyland neighborhood. 
In an email to those who signed up for news, the brewery and eatery wrote that its grand opening weekend will be "family and dog-friendly (dogs welcomed in the patio) and will feature music, raffles and, of course, our handmade tamales and beers with a small selection of ciders, non-alcoholic drinks and cocktails … yes, margaritas are on the menu!" Doors will be open 11 a.m. to 10 p.m.
(For the latest Places & Things, check here throughout the week.)
Frank Catalano's column appears Wednesdays. Email: frankcatalano@cascadiadaily.com; Twitter @FrankCatalano.