Snow Sports
35th Legendary Banked Slalom returns to Mount Baker
400 snowboarders compete; 49 from Bellingham
February 6, 2023 at 5:02 p.m.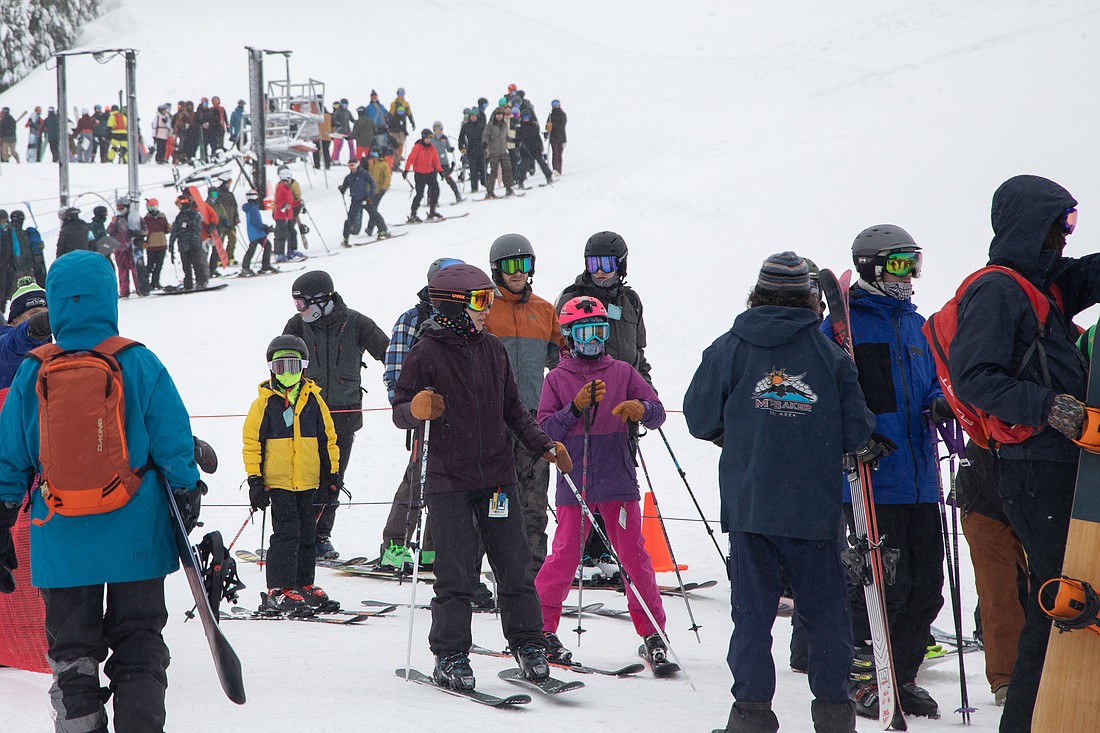 ---
---
Another Legendary Banked Slalom has come and gone at Mount Baker Ski Area. The high-speed race opened with qualifiers on Feb. 3 and 4, then the top competitors faced off in the finals Sunday, Feb. 5. 
The 35th edition of the slalom was highly anticipated — in part due to the two-year hiatus of the event because of the COVID-19 pandemic, one of the few times the event has been canceled since it began in 1985.
This year's slalom featured 400 snowboarders from across the globe, including 197 from Washington. Bellingham is home to 49 of those competitors. 
On the all-ages Pro Women's side, two-time Olympian Tess Critchlow earned her first trip to the podium atop Mount Baker, edging reigning women's champion Audrey Hebert by a tenth of a second. Critchlow competes for Team Canada in snowboard cross.  
Harry Kearney took home his third first-place finish in the slalom's all-ages Pro Men's category. Kearny first won in 2011 at the age of 17, then again in 2014. 
However, it was the 15-year-old phenom Anthony Shelly who recorded the fastest run of the finals, clocking in five-hundredths of a second faster than Kearney. 
Top finishers
Pro (all ages) 
Men: Harry Kearney, 29, of Telluride, Colorado (1:13.49) 
Women: Tess Critchlow, 27, of Kelowna, British Columbia (1:19.37) 
Pro Legends (ages 50-plus) 
Men: Mark Fawcett, 51, of Nelson, British Columbia (1:20.02) 
Women: Marguerite Cossettini, 54, of South Lake Tahoe, California (1:29.40) 
Pro Masters (40–49) 
Men: Pontus Staahlkloo, 49, of Solleroen, Sweden (1:17.52) 
Women: Marni Yamada, 44, of Lake Forest Park, King County (1:23.70) 
Super Masters (60-plus)
Men: Luke Edgar, 60, of Park City, Utah (1:27.31) 
Grand Masters (50–59)
Men: Peter Vinter, 50, of Gesunda, Sweden (1:21.05) 
Women: Corey Saxon, 53, of Maple Falls, Whatcom County (1:33.97) 
Mid Masters (40–49) 
Men: Chauncey Sorenson, 43, of Juneau, Alaska (1:18.43) 
Women: Anna Bengtson, 43, of Syringa, Idaho (1:29.63) 
Masters (30–39) 
Men: Che Contreras, 37, of Bellingham, Whatcom County (1:17.13) 
Women: Janessa Bork, 43, of Bend, Oregon (1:25.32) 
Amateur (16–29) 
Men: Milo Malkoski, 22, of Seattle, King County (1:17.42) 
Women: Juliette Pelchat, 18, of Whistler, British Columbia (1:21.72) 
Junior (13–15) 
Boys: Anthony Shelly, 15, of Whistler, British Columbia (1:13.47) 
Girls: Jade Knox, 14, of Hyak, Kittitas County (1:21.85) 
Next Generation (8–12) 
Boys: Kanon Ling, 11, of North Vancouver, British Columbia (1:27.76) 
Girls: Barrett Zwiebel, 12, of Glacier, Whatcom County (1:42.26)