Outdoors
Whatcom's new parks and rec director looks to 'dust off' old project plans
Bennett Knox wants all voices heard in new master plan
February 16, 2023 at 5:05 a.m.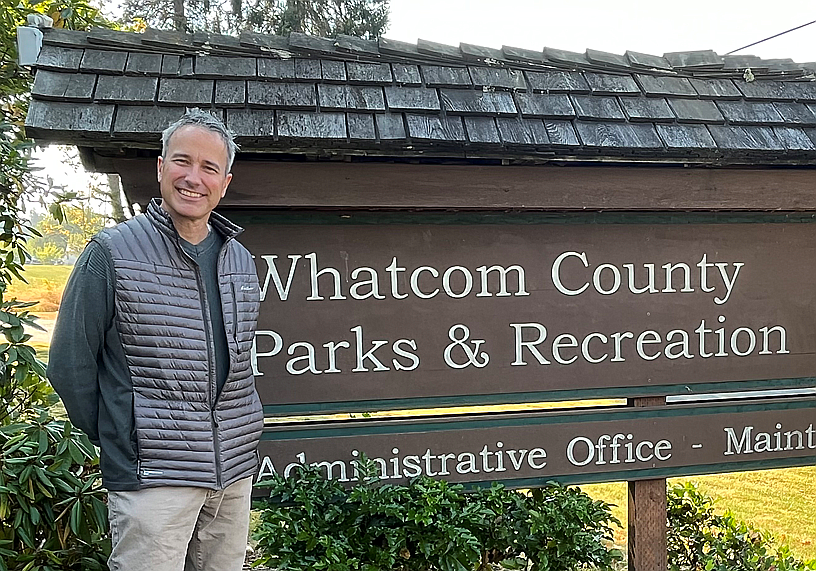 ---
---
I didn't expect Whatcom County's new parks and recreation director to bring a Bluegrass State of mind to our conversation a few days before Christmas. But that's how it went with Bennett Knox.
"I love the smell of skunks, I love the smell of manure," he said when reminiscing about his upbringing in Kentucky. "I can kind of smell tobacco farms right now."
Hate to break it to the newbie, but Whatcom's rich agricultural community doesn't include tobacco. The enticing berries, cherries and fresh vegetables will have to suffice.
I suspect that's ok with Knox, who has taken stewardship of a parks system that embodies the regional flavor of Washington's northernmost county.
Knox, 52, is part of the migration of nature lovers attracted to Whatcom County's diversity of land that extends from the Salish Sea into the craggy peaks of the North Cascades and reaches across the border to Point Roberts on the southern tip of Canada's Tsawwassen Peninsula. 
The 16,000 acres under park jurisdiction offer hiking and biking trails, lakes, senior activity centers, campgrounds, playfields and a rifle range.
"The love of nature is ingrained in people here," Knox said. "People moved here specifically for that. People loved the outdoors in Louisville, but there is more passion here." 
Knox took the baton in September from Michael McFarlane, who retired after leading the department since 2003. Knox worked in the Louisville city parks department for 22 years, including managing a large community forest in a city of 630,000 people. But nothing he did compares to the scale of the county's two dozen parks and almost 70 miles of trails. 
"Our parks system is a source of great pride in Whatcom County, and it was very important to me to find the right person for this role," County Executive Satpal Sidhu said in a statement. "Bennett impressed me with his professionalism, thoughtfulness and enthusiasm for parks as an invaluable public resource."
Overseeing such a wide swatch inevitably butts against every imaginable issue connected to outdoor recreation. Knox's department has a role in just about every stress point our region faces: trailhead break-ins, overcrowding, encroaching development into open space, environmental anxiety, and on and on.
Knox has spent much of the first year studying the varied issues facing the department to pinpoint what projects to try to jumpstart. He also is working to cultivate relationships with underserved communities to ensure everyone has a say on ways to improve recreation opportunities. 
Knox grew up on a 100-acre corn and tobacco farm near Georgetown, Kentucky, but neither parent farmed. His father, David Knox, was a Georgetown lawyer, and his mother, Barbara Knox, worked at a state health service agency.
Bennett Knox describes himself as a latchkey kid who roamed the farm with his pets.
"That kind of memory always stays with you," he said.
The experience led to studying natural resource conservation at the University of Kentucky and then earning a master's of engineering management in resource ecology at Duke University. Knox also got a minor in Russian and speaks some Chinese after teaching English in China for a few years.
Knox's background has helped inform his approach to outdoor recreation. He recalled being the first generation to attend desegregated schools while growing up in Kentucky after the Civil Rights movement. 
"You're still aware of your own bias and racial prejudices," he said. "Those things play out in your high school and growing up."
Knox managed a community forest in an area where residents had held demonstrations against desegregation. Confederate flags flew on the route to the main public entrance. 
"It was a community forest where all should have felt welcomed, but that was not the case," Knox said.
In a National Recreation and Parks Association 2021 newsletter, Knox wrote, "If we accept that nature is for everyone, regardless of skin color, then the lack of substantial progress in improving racial diversity within environmental fields must be the result of systemic issues we collectively have failed to address." 
Knox and his staff worked with Louisville's Black community to be more inclusive.
Knox hopes to employ similar strategies to involve leaders of Whatcom's tribal nations and Latinx farm workers. He wants their voices represented in an updated master plan due by early 2024.
"My environmental philosophy is we can't protect what we don't understand," he said. "We need everybody at the table to protect the resources we hold dear. The role of a government agency like ours is to try to ask the question: are we serving everyone? And are we giving everyone the opportunity to enjoy what they are part of?"
It's an example of how a new leader can introduce fresh perspectives without diminishing the work of predecessors.
Knox relocated to the West Coast while his wife, Michelle, stayed behind as their twin daughters started college. Aidan Knox is studying the viola at the University of Cincinnati College-Conservatory of Music and Harper Knox is a history major at the University of Transylvania in Lexington, Kentucky. Michelle, a graphic designer, will join her husband later this year. 
Knox is not working solely on visionary ideas. We discussed some specific projects I'm eager to see progress. Namely, an extension of the proposed 75-mile Bay to Baker trail and the 50-mile Coast Millennium trail (aka the Salish Coast Trail) from Larrabee State Park to Peace Arch Park.
Knox wants to "dust off" some of those trail plans and figure out how the parks department can help move the ideas forward despite complex, multi-jurisdictional roadblocks.
Hamsters take pride in the annual Ski to Sea multisport relay race that represents the beauty of our region. It would be nice to someday have a connecting trail from Bellingham to the Mount Baker Ski Area for hikers, bikers and equestrians by converting former rail lines and logging roads.
A Jan. 9 letter from Parks Commission Chair Sonja Max encouraged county officials to pursue the project. But right-of-way acquisitions alone will cost a lot. Planners haven't even been able to complete a 4.5-mile stretch of the Bay to Baker trail from Maple Falls to Glacier because of flooding in 2015. The county has no timeline to repair the trail.
Perhaps the concept is too big a challenge. But at least we have an executive willing to see what might be done.
Let's hope Knox can galvanize support for this project and many others.
Elliott Almond's outdoor column appears monthly. Email: elliottalmond4@gmail.com.