Kayaking
Local paddlers take 52nd in 70-mile race
Bart Maupin, Marc Furhmeister among 67 teams to complete 'Seventy48'
June 5, 2023 at 1:12 p.m.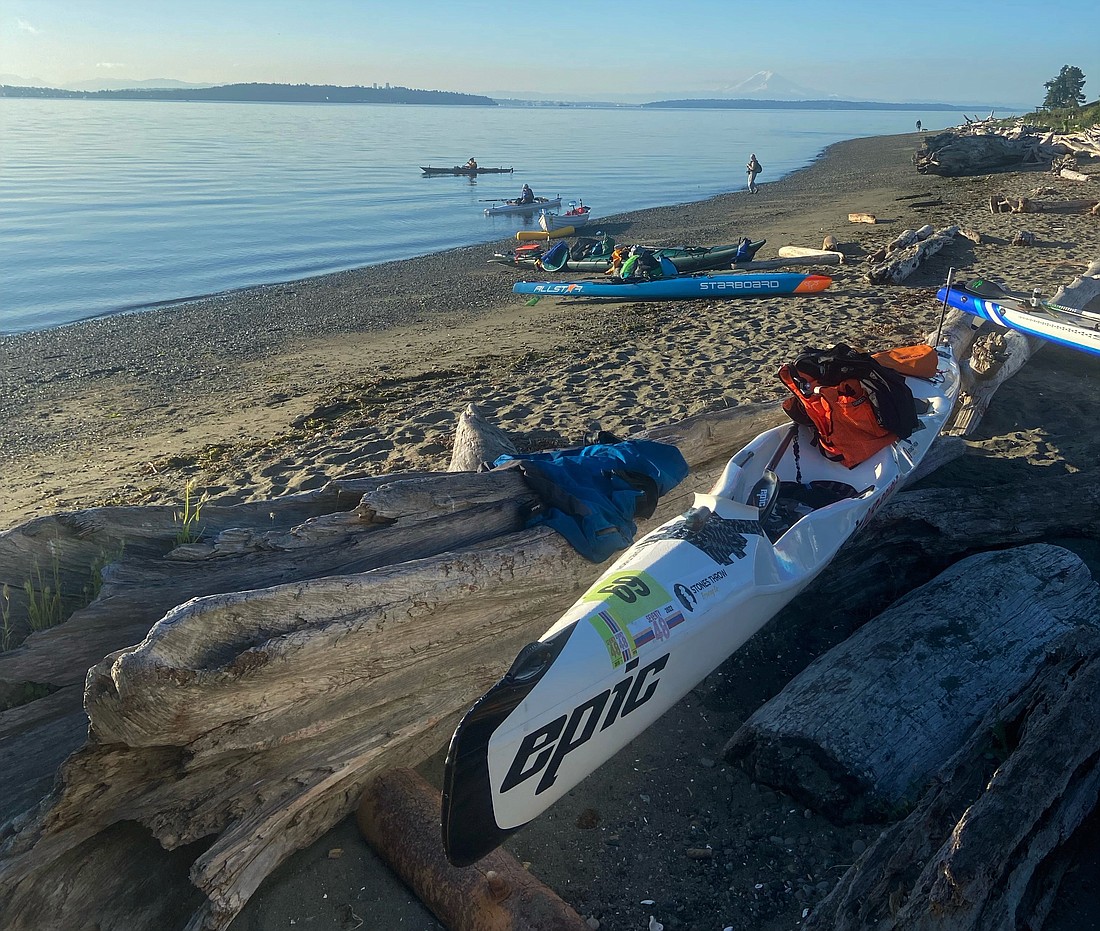 ---
---
Paddler Bart Maupin woke up Sunday, June 4, feeling sore all over.
"I feel like I got hit by a dump truck," he said from Port Townsend. "Muscles I didn't know I have hurt."
The aches and pains were the rewards for finishing the demanding Seventy48 human-powered race with partner Marc Furhmeister.
The Bellingham pair, paddling under the name Team Stones Throw Brewery, finished 52nd in a 70-mile race from Tacoma to Port Townsend with a 48-hour time limit. Maupin and Furhmeister completed the trek in 25 hours, 9 minutes.
Egor Klevak and Ivan Medvedev of Shoreline won in 10 hours, 27 minutes. Carter Peter Johnson of Underwood was second overall but first among solo competitors in 10 hours, 48 minutes. Sixty-seven of the 137 teams completed the race.
Ian Sawyer, the other Bellingham participant, withdrew in Kingston after paddling 41 miles over 6.5 hours.
"Nothing was going wrong," he said Monday, June 5. "I decided I wasn't enjoying what I was doing, so I decided to stop."
Seventy48 is the teaser for the adventurous Race to Alaska (R2AK) — a 750-mile, non-motor boat event scheduled to start on Monday night from Port Townsend. The Northwest Maritime Center in Port Townsend launched R2AK in 2015. It added Seventy48 two years later.
Maupin, a Washington state trooper recently assigned to the aviation unit in Olympia, described the final eight hours as tough while battered by winds and waves on Puget Sound.
"It was the longest, most demanding paddling we've done," he said.
Although their families greeted them at the Port Townsend Docks, the men celebrated the feat by forgoing dinner and instead going to sleep. 
"We pretty much just passed out at the finish," Maupin said. "I sat down and didn't move."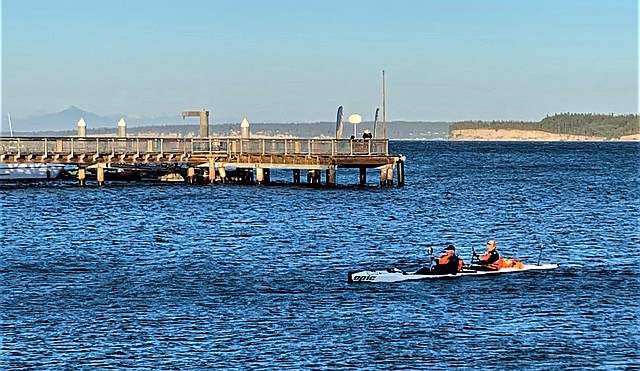 Sawyer, 42, paddled with Johnson until Bainbridge Island. Then the solo winner took off. Strong headwinds swirled when Sawyer reached the north end of Vashon Island.
"I got into some of the heaviest weather when it was getting really dark," he said. 
He stopped at 1 a.m. Saturday with his wife Kara Sawyer picking him up.
Fuhrmeister, 32, started crewing for Maupin a decade ago in Bellingham Bay sailing races. They began kayaking to compete in Ski to Sea. 
The paddlers prepared well for their fourth Seventy48. Maupin made peanut butter and jelly burritos, and rice and bean burritos. They carried energy bars. The mens' research revealed people burn 30,000 calories in ultramarathon events. 
They ate a couple hundred calories every hour to replenish themselves. 
"The first year we didn't do that very well," recalled Maupin, 48. "If I don't eat every hour I am shaking uncontrollably when stopping."
Then there is the question of potty breaks. Maupin said the course stays close to shore so competitors can use public restrooms on Vashon, Bainbridge and Blake islands. 
"If we had to, we could swing into the beach and find a bush," he added.
Maupin described the race as "Type 2" fun. It's a joyful experience in the aftermath, as much as they suffered during the race.
"Even as nasty as it was, people want to be out there doing stuff like that who can't," he said. "We were fortunate to do it even though it was uncomfortable."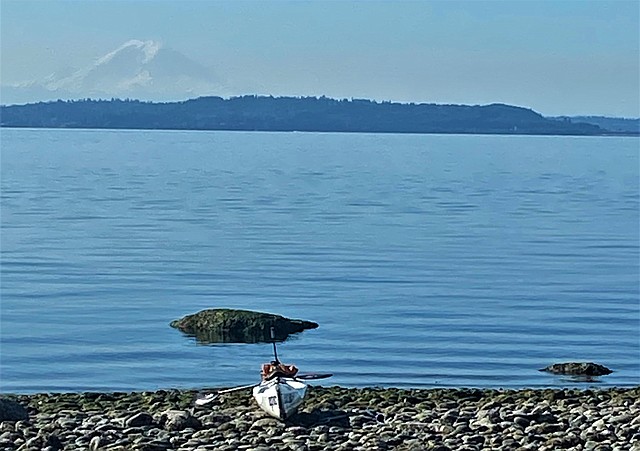 The paddlers decided this year's Seventy48 is their last one after completing the journey in three out of four attempts. They dropped out last year.
"By finishing it, we're good," Maupin said.
He added Furhmeister, a former Western Washington University distance runner, was so exhausted he was not ready to talk on Sunday morning.
The teammates are interested in a new adventure — the California River Quest, an ultramarathon paddling race on the Sacramento River.
Sawyer is not sure he will enter Seventy48 again because of the dedication it takes to train for such an endeavor. As a stay-at-home father, Sawyer does not have time for so much paddling. 
"I can't say never, but I don't see trying to do it again any time soon," he said.
Sawyer, a former University of Washington rower, hopes to enter a summer paddle festival on the Columbia River called the Gorge Downwind Champs.
"It's always a balance of doing these for fun and being competitive," Sawyer said. "Sometimes it is healthy to be reminded that, at this point, I am doing it for fun rather than striving for results."