Basketball
Western three wins away from Elite Eight
Vikings to face Azusa Pacific in first round of West Regional Tournament
March 8, 2023 at 5:00 a.m.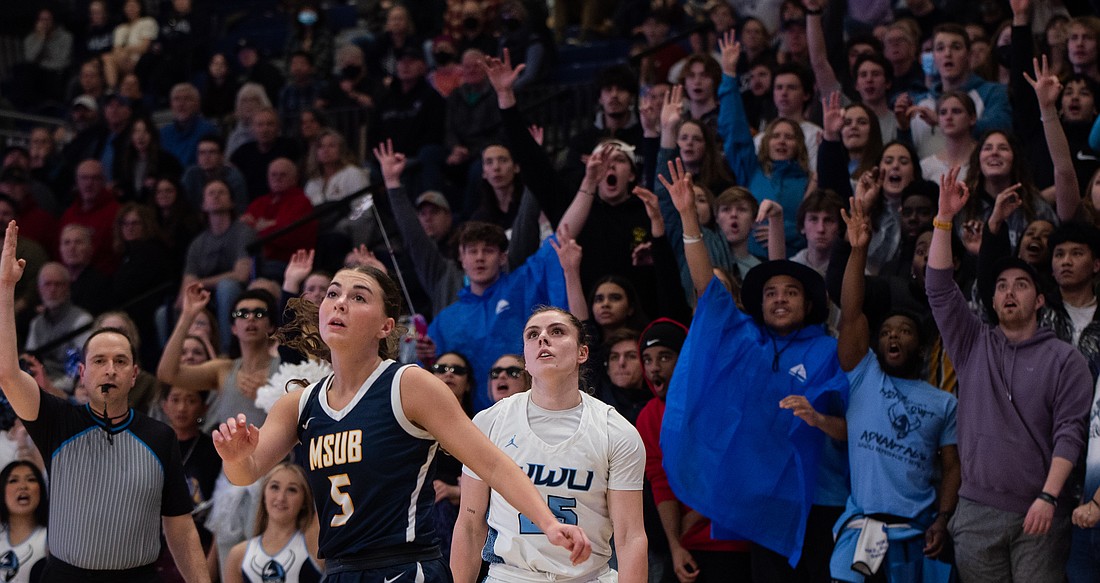 ---
---
Western Washington University's women's basketball has an incredible track record at the NCAA Division II level since joining in 1998-99. In 24 possible seasons, the team has made the postseason 19 times. 
The Vikings, one year removed from their first-ever NCAA Division II National Championship game, are headed back to the eight-team West Regional Tournament as the No. 2 seed after defeating Montana State University Billings 76-71 on March 4 for the Great Northwest Athletic Conference title.
That makes the team three wins away from a second-consecutive Elite Eight appearance.
Western (24-3) will face No. 7 Azusa Pacific University (25-4) in the West Regional Tournament quarterfinals at 2:30 p.m. Friday, March 10. The tournament will be held in Carson, California, from March 10–13 at the campus of top-seed California State University Dominguez Hills. The game will be webcast through the California College Athletic Association Network.
A quarterfinals win would send Western to a Saturday, March 11, semifinal against either No. 3 Cal State San Marcos (23-5) or No. 6-seeded, in-state rival Central Washington (21-8).
Azusa Pacific handed the Vikings an 0-1 start to their season on Nov. 18, 2022, when the Cougars downed Western 59-58 at Whatcom Community College. The two teams have not met since.
Western junior forward Brooke Walling tallied her first double-double of the season in that game, leading the Vikings with 17 points, 11 rebounds, three blocks and three steals. Redshirt freshman guard Mason Oberg and senior forward Katrina Gimmaka added 10 points each.
Gimmaka (9.9 points per game) and Oberg (8.6 points per game) have continued their offensive effectiveness throughout the season behind Walling's team-leading 13.6 points per game.
The Vikings' defense continues to be bolstered by Walling and senior guard Avery Dykstra, the reigning two-time GNAC Defensive Player of the Year. Western is ranked second nationally in assists (19.6) and blocks (6.0) while being ranked third in field goal percentage (48.8%).
Azusa Pacific's scoring burden is less equally distributed. Junior guard Paige Uyehara (14.0 points per game), junior forward TyLee Manuel (13.7 points per game), sophomore forward Kelly Heimburger (11.7 points per game) and junior forward Molly Whitmore (11.6 points per game) all average double-digit points, making up nearly 70% of the Cougars' average offensive output of 73 points per game.
The Cougars also led the PacWest Conference in shooting percentage (42.9%), blocks per game (3.45), assists per game (17.24), and assist-to-turnover ratio (1.24). 
Western has a 10-1 record on the road this season, with its only loss coming against MSUB on Jan. 21. The Yellowjackets (24-7), who the Vikings downed for the GNAC Championship last week, will be the No. 4 seed in the West Regional tournament.
The full West Regional tournament schedule is below.
Friday, March 10: Quarterfinals
Game 1: No. 3 Cal State San Marcos (23-5) vs. No. 6 Central Washington (21-8), 12:00 p.m.
Game 2: No. 2 Western Washington (24-3) vs. No. 7 Azusa Pacific (25-4), 2:30 p.m.
Game 3: No. 4 Montana State Billings (24-7) vs. No. 5 Cal State LA (20-9), 5:00 p.m.
Game 4: No. 1 Cal State Dominguez Hills (28-2) vs. No. 8 Cal Poly Pomona (18-10), 7:30 p.m.
Saturday, March 11: Semifinals
Game 5: Winner Game 2 vs. Winner Game 1, 5:00 pm
Game 6: Winner Game 4 vs. Winner Game 3, 7:30
Monday, March 13: West Regional Final
Championship Game: Winner Game 5 vs. Winner Game 6, 7 p.m. (winner to Elite Eight in St. Joseph, Missouri, March 20–22)