Track & Field
WWU notches 2 top-10 finishes at Indoor Nationals
Men's DMR runners earn All-America honors; Vikings nab 13 top finishes at PLU Open
March 11, 2023 at 7:52 p.m.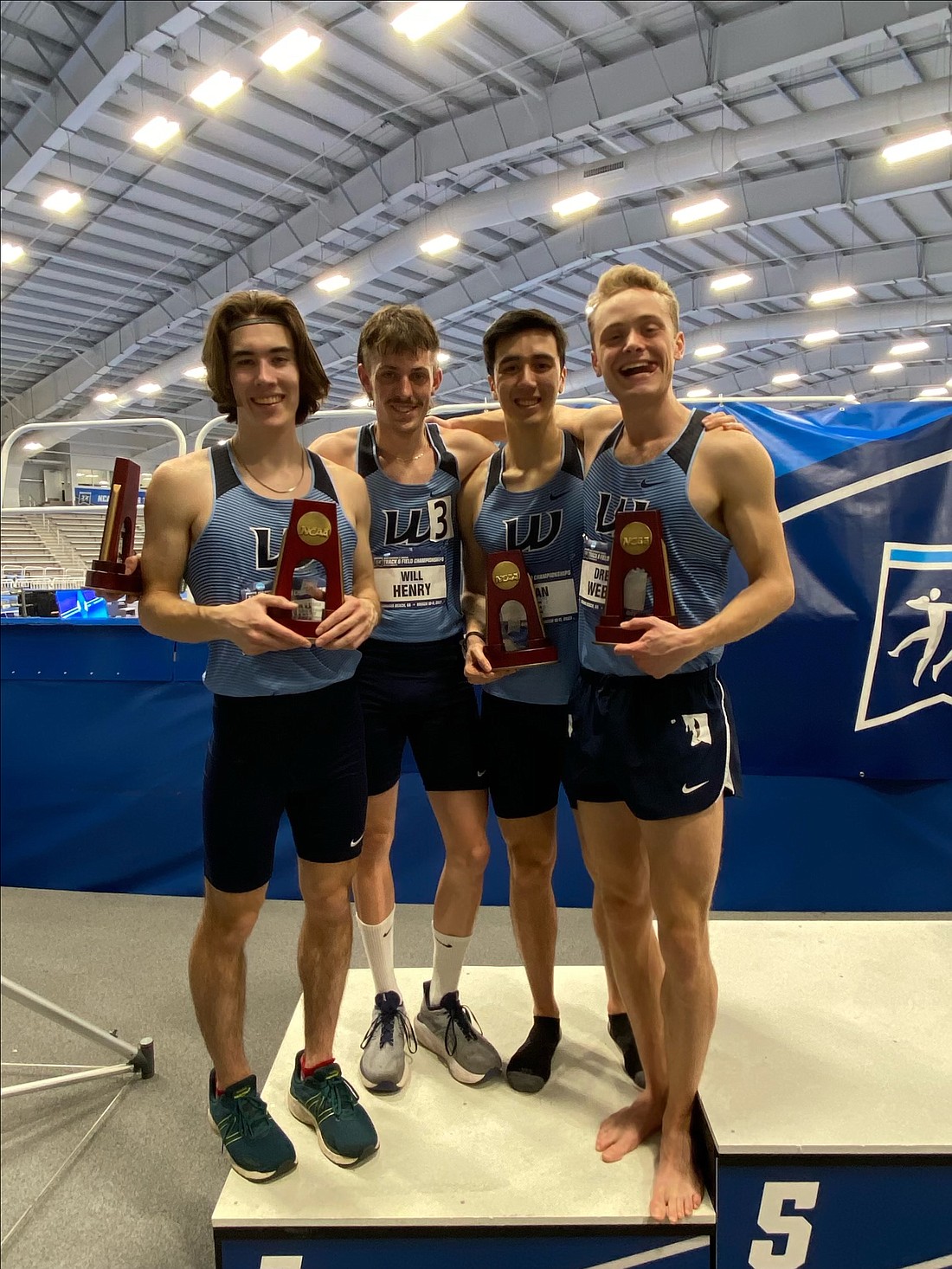 ---
---
A busy weekend for Western Washington University track and field concluded with two top-10 finishes at the NCAA Division II Indoor Track and Field National Championships and 13 first-place finishes at the second meet of the outdoor season.
Indoor season wraps up at Nationals
Four Vikings enjoyed an extended indoor season, competing at Nationals in Virginia Beach, Virginia, on March 10. 
Sophomores Brian Le and Will Henry, junior Drew Weber and freshman Jonah Bloom earned First Team All-America honors with their seventh-place finish in the men's distance medley relay (DMR). The group's mark of 9:51.19 is the third-fastest time in program history and the second-best finish by a Vikings relay team on an indoor national stage.
The DMR is split into four legs of varying distances. Weber ran the first leg, the 1200-meter portion, Le the 400-meter, Bloom the 800-meter and Henry brought it home with the 1600-meter leg. 
Henry and Weber swapped positions from the team's program-record-setting time of 9:45.48 at the UW Invitational on Jan. 27 — a time that would have placed them fifth at Nationals.
Weber was also Western's lone individual qualifier at Nationals, finishing 10th in the men's 800-meter run and earning a Second Team All-America honor with his time of 1:53.06 in the prelims. 
The sophomore runner set a program record in the 800-meter earlier this season on Feb. 25 at the Ken Shannon Last Chance Invite with a time of 1:49.86.
Outdoor season progresses
The rest of Western's track and field team attended the 12-team PLU Open at the Pacific Lutheran University Track and Field Facility in Tacoma on March 11, recording 13 first-place finishes.
Sophomore Caitlyn Cheney picked up two top placements, finishing first in both the women's 100- and 200-meter races. Cheney set new personal records in both events, clocking a time of 12.64 seconds in the 100-meter before finishing the 200-meter sprint in 25.14 seconds.
Western's underclassmen continued to impress, as sophomores Mia Crocker and Ila Davis each posted top-10 marks in program history.
Crocker clocked a time of 2:13.41 (No. 5 in program history) in the 800-meter race while Davis picked up an NCAA Division II provisional qualifying mark with her time of 10:36.03 in the 3,000-meter steeplechase.
Freshman hurdler Brooke Mansfield captured first in the 400-meter hurdles (1:06.69), junior Marian Ledesma took the top spot in the 400-meter run (59.64 seconds) and the Vikings' 4X400 relay team of sophomore Sophie Wright, freshman Emmy Kroontje, Crocker and Ledesma wrapped up Western's top performances in women's track events with a time of 4:08.23.
Sophomore thrower Katie Potts earned first place in the discus with her mark of 42.17/138-4, while freshman Mara Parks took first in the shot put (12.14/39-10).
Freshman sprinter Ethan Johnson led the Vikings' men's runners, taking first place in the 200-meter run with his time of 22.33 seconds.
Western's men's team had one thrower and two jumpers take top spots in freshman Angelo Ramos (hammer throw, 53.64/176-0), sophomore Manu Greenlee (high jump, 1.83/6-0) and freshman Gabe Menicke (long jump, 6.50/21-4).
Next up for the Vikings is a trip to Eugene, Oregon, for the Oregon Preview at Hayward Field from March 17–18.