Softball
Western softball 'super eager' to keep improving
Vikings' young core has stepped up to the plate, is hungry for more
March 15, 2023 at 5:55 a.m.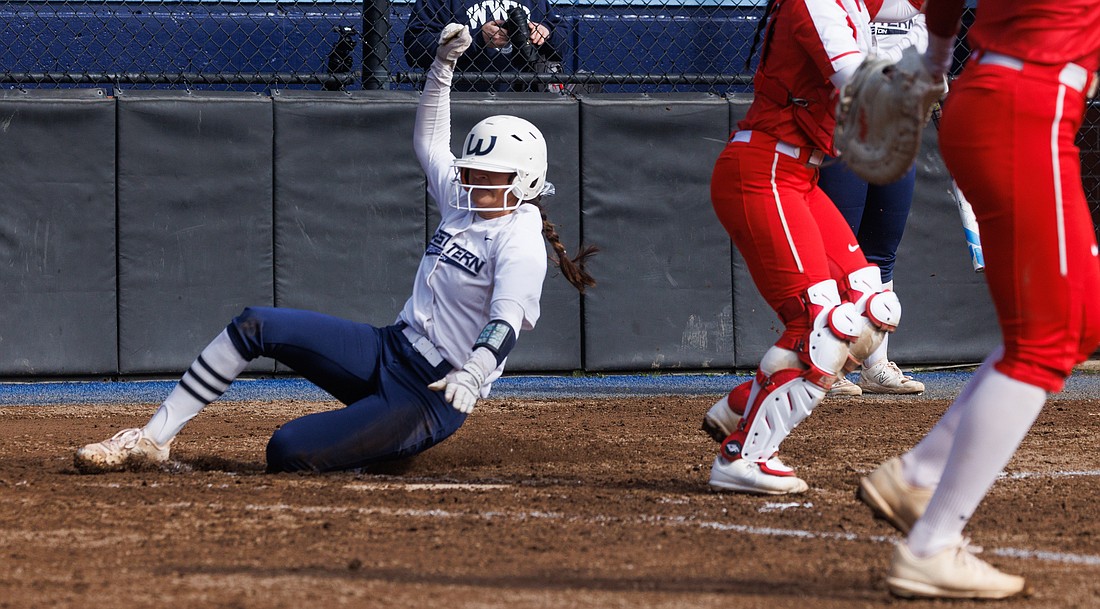 ---
---
Last season, Western Washington University softball fielded seven seniors, three of whom had been with the program for five years. This year, the future is looking bright as a new, young core of players continues to impress.
Three of the team's current 19 players, in addition to its five freshmen, are in their first season with Western. Five others are just in their second season with the team.
What the program lost in veteran leadership, it has gained in players hungry to improve. 
"[There are] a lot of really great relationships within the team, which I think makes the journey a lot more fun," fourth-year Western coach Sheryl Gilmore said. "They're big fans of each other."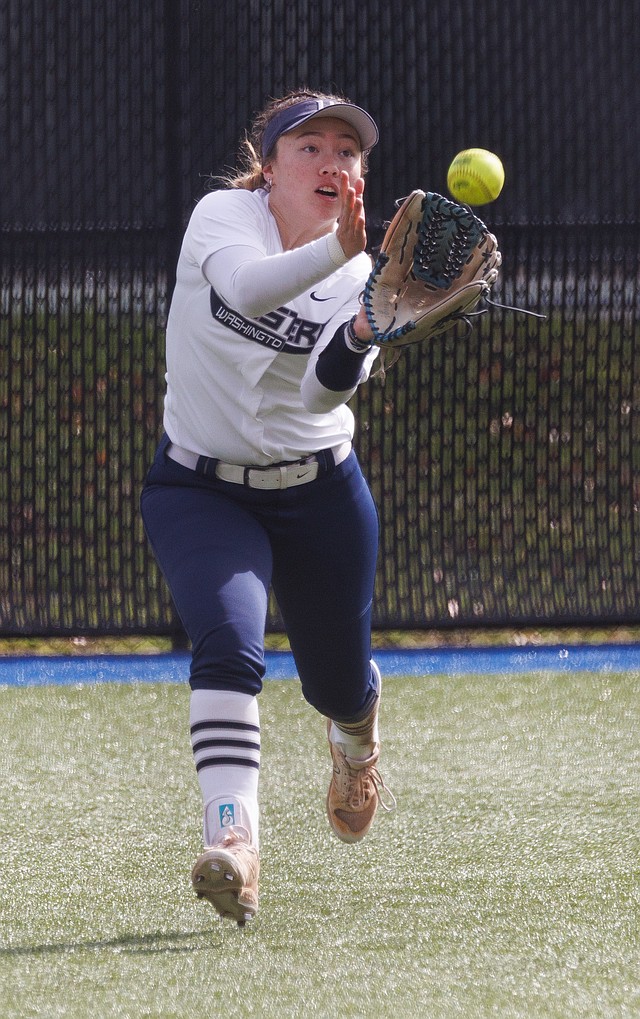 The team currently sits at 11-9 overall and 3-1 in Great Northwest Athletic Conference games, placing first in the league standings. Northwest Nazarene University (12-11, 3-1 GNAC) is a close second.
Western recently played its first home games of the season during a four-game series against Simon Fraser University from March 9–11. The Vikings won the first three before being shut out 8-0 in the last game of the series.
A two-game series versus Northwest Nazarene on Feb. 24 and 25 was intended to be the team's original homecoming, but those games were canceled due to an unplayable field and weather conditions.
"It's always nice to get home and have the fans there," Gilmore said. "Just to be in our environment, we enjoy it for sure."
Western's team batting average has steadily improved throughout the season, which was partially expected due to a lack of live reps in the offseason and preseason, Gilmore said. Rain and snow right before a season are common for Pacific Northwest teams.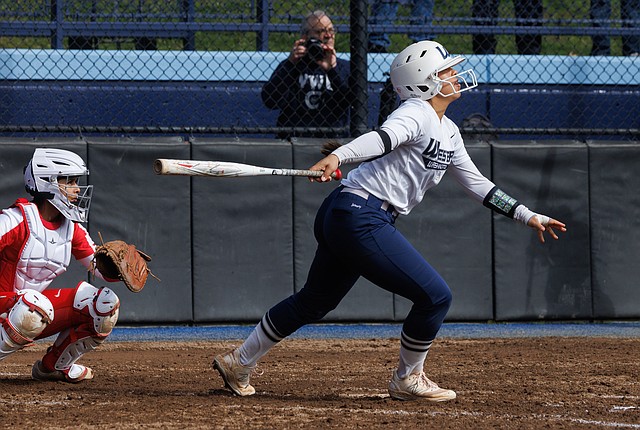 "This group is super eager to get better, which is awesome," Gilmore said. "All the little things, they're really tuned in to. I think that's what's helping us get better faster with such a new and young group."
The Vikings' defense is a work in progress, but it's what they pride themselves on, Gilmore added. Multiple players are learning new positions on the fly, too.
"There's going to be some natural bumps in the road, but I think it's pretty neat how they just have this resolve and they're up to the challenge," Gilmore said. "They're excited every day to get better, and they're super coachable."
Back to their roots
Western made the trip to Honolulu for the 2023 Hawai'i Invitational Feb. 18–20, playing six games total against Hawaii Pacific University, the University of Hawaii Hilo and Chaminade University.
The Vikings went 3-3 over the six-game slate, but it was an initial homecoming of sorts for a few of the team's members.
Two of Western's players, Joie Baker and Kanilehua Pitoy, are from Hawaii, in addition to Vikings assistant coach Shearyna Labasan. 
"We had such a great turnout of families; we had a lot of alumni that came, too," Gilmore said. "It was good competition, and it was just a really neat time for the group, and great team bonding." 
One of the three fields Western played on, San Island Field, was where Labasan played her high school games while at Maryknoll High School.
Feel her Rath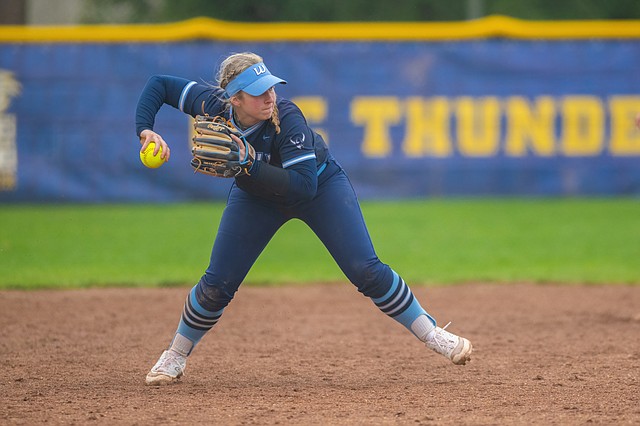 Perhaps the most exciting addition to Western's team this year is freshman Hailey Rath, who hails from Eatonville High School.
Rath posted an eye-popping batting average of .605 her senior year and ranked top-10 in the nation with 24 home runs, leading Eatonville to a third-place finish in the 1A state tournament in 2022.
An outfielder her whole life, Rath was asked to play shortstop for the Vikings. Even though she had no experience in the position, the freshman responded with, "I'll do anything I can to help this team win a championship," Gilmore said.
Rath is batting .324 this season, has an on-base plus slugging percentage of 1.014, has belted four of the team's five total home runs, and leads the team with 17 RBI, among other things.
In the field, Rath has a .931 fielding percentage, 29 putouts and 38 assists.
"To play one of the toughest positions on the field at the college level, having never done it before, is something I've never seen," Gilmore said. "She's been great for us and her bat is pretty unbelievable. I have no doubt it's just going to continue to get better."
Gilmore expects her to grow into one of the team's top leaders in years to come, even more than she already is.
"Her physical skill set is incredibly impressive, but she brings so much more as a person and as a leader," Gilmore said. "I think she's a big reason why the team can just continue to take steps forward in the face of adversity."
Steady going in the circle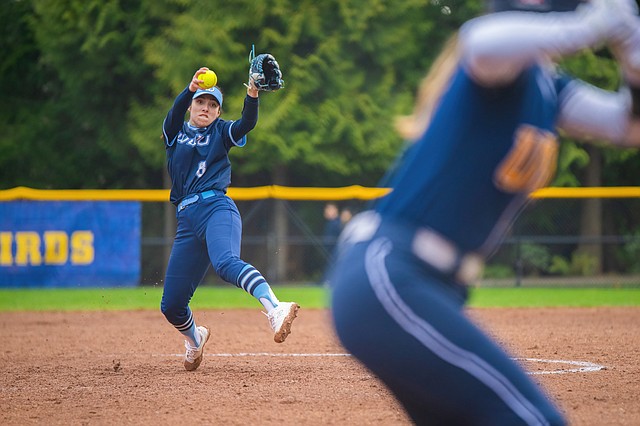 Senior pitcher Mareena Ramirez has led the Vikings in the circle, compiling an 8-2 record and 82 strikeouts through 73.2 innings pitched this season with a 1.43 ERA.
Ramirez, in her first season with Western, has allowed just 15 earned runs, 37 walks and 50 hits in that same span.
"The team feeds off of her energy. She's really fiery in the circle," Gilmore said. "It's a good thing — I think the team gets fired up for her."
The senior starter began the season designated as a junior, but recently found out she was not granted the extra year of eligibility from Central Washington University — she never played a game for the Wildcats amid COVID-19 before playing two seasons at Idaho State University.
Gilmore, who previously coached at Edmonds College for four years, knew Ramirez when the pitcher was in high school and attended a camp at the college.
When her name popped up in the transfer portal, it was a perfect pairing. But whether she will have one more year left in a Vikings' uniform in 2024 is up in the air. 
"We're hoping we can appeal it and get it back," Gilmore said. "She's riding the wave of that pretty well."