Track & Field
Western posts 9 top-10 program marks at Oregon Preview
Vikings' sophomore 10K runners reset history books with 4 top-5 times
March 19, 2023 at 1:03 p.m.
|
Updated March 20, 2023 at 8:24 p.m.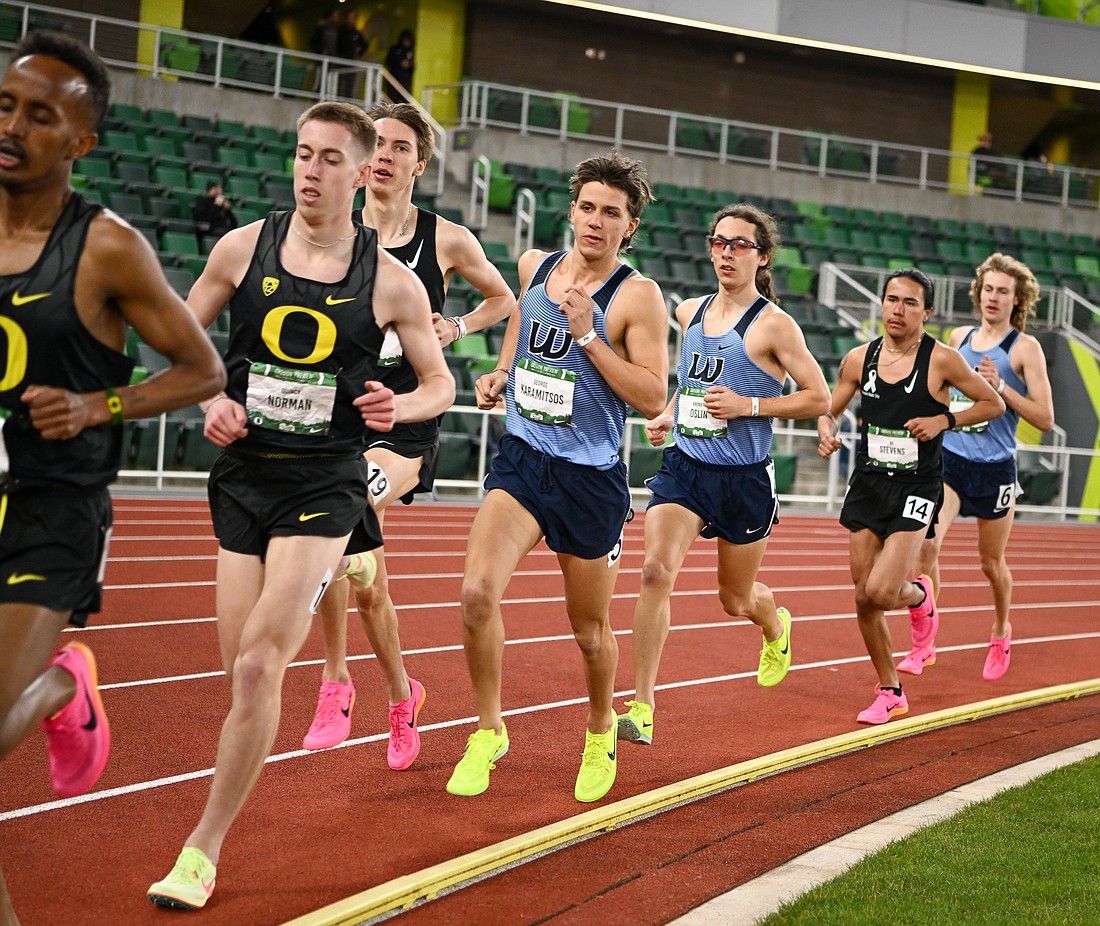 ---
---
Western Washington University track and field was split between two events this weekend, posting nine new top-10 marks in program history and three first-place finishes.
The Vikings were led by sophomore distance runners George Karamitsos, Andrew Oslin, Kevin McDermott and Jeret Gillingham in the Oregon Preview March 17–18 at the University of Oregon's Hayward Field.
All four runners placed top-10 in the men's 10,000-meter run March 18 while capturing sub-30-minute times, and the pack of Vikings now holds four of the top five marks in program history.
Karamitsos bested Oslin's program-record time of 29:41.91 set on March 3, with a new record mark of 29.40.69 — placing sixth overall among 14 runners. Oslin finished seventh with a time of 29:45.88.
McDermott (29:48.23) finished eighth overall, capturing the fourth-best time in school history, while Gillingham (29:54.66) finished ninth and nabbed the fifth-best.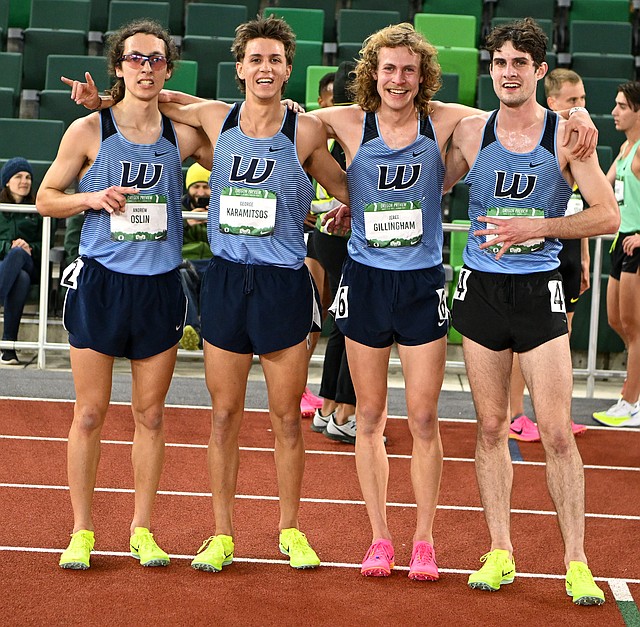 Western sophomore Jonah Bloom led the Vikings' performers at the Oregon Preview on March 18, finishing first in the men's 800-meter run with his time of 1:52.59 and capturing the No. 10 mark in program history.
In the women's 800-meter race, junior Marian Ledesma finished second and her 2:12.76 time places her No. 2 in Western outdoor history.
The Vikings' men's 4X100 relay team of freshman Ethan Johnson, sophomore Ryan Greenwalt, junior Noah Johnson and sophomore Nolan Mickenham nabbed second place, tying the fifth-best time in school history at 41.52 seconds.
Sophomore Brian Le posted a top-10 program mark in the men's 400-meter dash with 48.35 seconds, ranking sixth all-time.
Noah Johnson finished third in the men's 100-meter dash, clocking in at 10.761 seconds and narrowly edging teammate Mickenham (10.77 seconds), who set the eighth-best mark in the school history books. 
Mickenham also finished fourth in the men's 200-meter dash with 21.99 seconds.
Sophomore Miller Campbell turned in a fourth-place finish in the hammer throw, and his mark of 53.87/176-9 places him eighth in program history.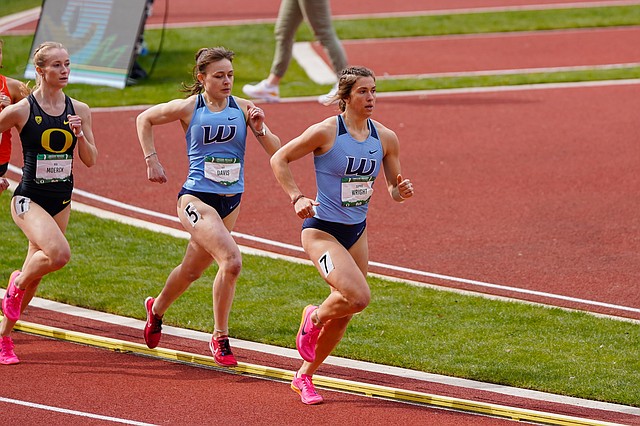 A Vikings sophomore trio of Mia Crocker, Ila Davis and Sophie Wright finished third, fourth and fifth, respectively, in the women's 1,500-meter run, with the distance runners crossing the finish line three seconds apart.
Western picked up two more first-place finishes between freshmen Jaden Johnson and Emmy Kroontje on March 18 during the Doris Heritage Track Festival at Renton Memorial Stadium. 
Jaden Johnson nabbed the top spot in the men's 200-meter dash with his time of 22.46 seconds while freshman Anouthai Vongphet, who was two-tenths of a second behind, took second place. Kroontje finished first in the women's 800-meter run, crossing the finish line in 2:18.76.
Sophomore Ethan Bursch (men's 800-meter run) and freshman Elie Bassett (women's 1-mile run) also nabbed second-place finishes at the meet.
Western will remain on the road until late April, and is next headed to Vancouver, British Columbia, for the UBC Invitational from March 25–26. 
This story was updated at 8:25 p.m. on Monday, March 20, to reflect additional results from the Oregon Preview event on March 18.