Law & Justice
Set to retire, Whatcom sheriff still all business
Bill Elfo spent 49 years in law enforcement
March 21, 2023 at 1:22 p.m.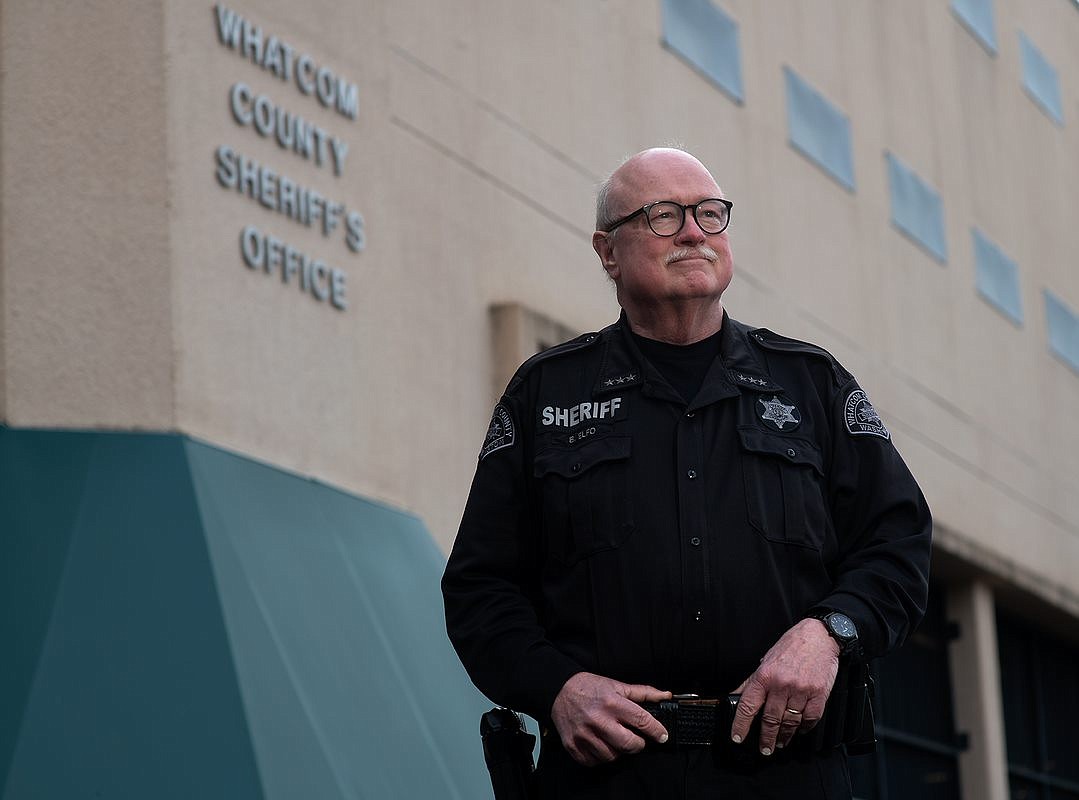 ---
---
Whatcom County Sheriff Bill Elfo may be retiring at the end of this year, after 20 years on the job and almost 50 years in law enforcement, but he has a couple big pieces of unfinished business.
In an interview March 21, one day after announcing his retirement, Elfo steered a question about the changes he's seen over the past two decades into an appeal for a new county jail and for legislative reforms that would, in his view, take the shackles off officers and allow them to do their jobs again.
"One of the biggest changes I've seen is just the profound increase we're seeing in the number of people with ... dangerous forms of mental illness that are coming in contact with the criminal justice system," Elfo said.
"We don't have the infrastructure to accommodate that, as any modern correctional facility would have," he added.
Immediately after making his pitch for a new jail, Elfo turned his sights on police-reform laws the state Legislature passed in 2021, in the wake of the murder of George Floyd at the hands of Minneapolis police.
"And I'm thinking of some of the nonsense that came out last year or the year before about … not engaging in pursuits," Elfo said, continuing his response to the question about the changes he has seen. A bill that would loosen restrictions on police pursuits remains under consideration in the current legislative session.
Working is about all Elfo has known. The sheriff, who turns 68 in April, said he has held down jobs since he was 12 years old. He worked full time through college, graduate school and then law school at Nova Southeastern University in Fort Lauderdale, Florida.
Elfo joined the police department in Pompano Beach, Florida, at the age of 19 and retired after 23 years. He then was hired as Blaine's police chief, a job he held for six years before he was appointed as the Whatcom County sheriff in 2003. He won his first election later that year.
"I've never had a break between jobs, so I'm looking forward to trying something else that will be more of a flexible schedule," Elfo said.
Retirement certainly qualifies. After tackling a cluttered garage and barn, Elfo said he would focus on volunteering, maybe at the Whatcom Humane Society or Lighthouse Mission Ministries. Or maybe he will help people who have experienced tragedy work through their grief, he said.
Elfo's son William died in 2019, nearly a year after he was seriously injured in a rollover crash on Interstate 5 near Alger, and just days after the sheriff was elected to his fifth and final term.
Despite difficult trips to the hospital in Seattle or care centers in Everett, Elfo said he doesn't recall missing a single candidate forum in 2019.
This dedication to his public responsibilities earned Elfo some admiration among progressives, including Karen Hofmann of the group Indivisible Bellingham. And Andrew Reding, chair of the Whatcom Democrats, said the sheriff initially had "broad respect and support among Democrats and Republicans alike."
But goodwill toward the sheriff faded among Democrats, Reding said, after two failed jail measures, in 2015 and 2017, that critics said did not offer enough behavioral health services for people who wind up in jail. Then Elfo strayed from his initial nonpartisan stance and endorsed Republican candidates for the state Legislature in 2020 and 2022.
"Elfo's departure opens a chance to restore trust in nonpartisanship, and for a more promising prospect for a third jail ballot measure," Reding said.
Elfo said he's not a member of any political party and only began endorsing Republicans after Democrats began proposing reforms that restricted law enforcement.
"My policy was pretty much not to get involved in partisan elections until I thought it became so critical to community safety," Elfo said.
In a message to Cascadia Daily News, Whatcom County Council member Kathy Kershner of Lynden praised the sheriff's work.
"It has been an honor to work with Sheriff Elfo during my time on the county council, to keep our community safe," Kershner said. "He has been a true advocate for the residents of Whatcom County and has demonstrated professionalism and excellence in the work he has accomplished over a very full career as our elected sheriff."
County Executive Satpal Sidhu highlighted Elfo's "big heart" in a prepared statement.
"I've known Sheriff Elfo for many years, since well before I got involved in county government," Sidhu said. "He has a big heart and has been a gracious public servant, showing how deeply he cares about our community."
Bellingham Mayor Seth Fleetwood worked with Elfo throughout the sheriff's tenure. Fleetwood previously served on the county council and the Bellingham City Council. Fleetwood and Elfo both served with Whatcom Unified Command during the emergency phase of the COVID-19 pandemic.
"He is straightforward, approachable, a strong communicator and a highly competent sheriff," Fleetwood said in a prepared statement. "He is a serious and consistent champion for public safety and the rule of law in our community, and he will be missed."