Environment
What's next at the Intalco aluminum smelter?
Canadian company eyeing facility for future development
March 21, 2023 at 1:32 p.m.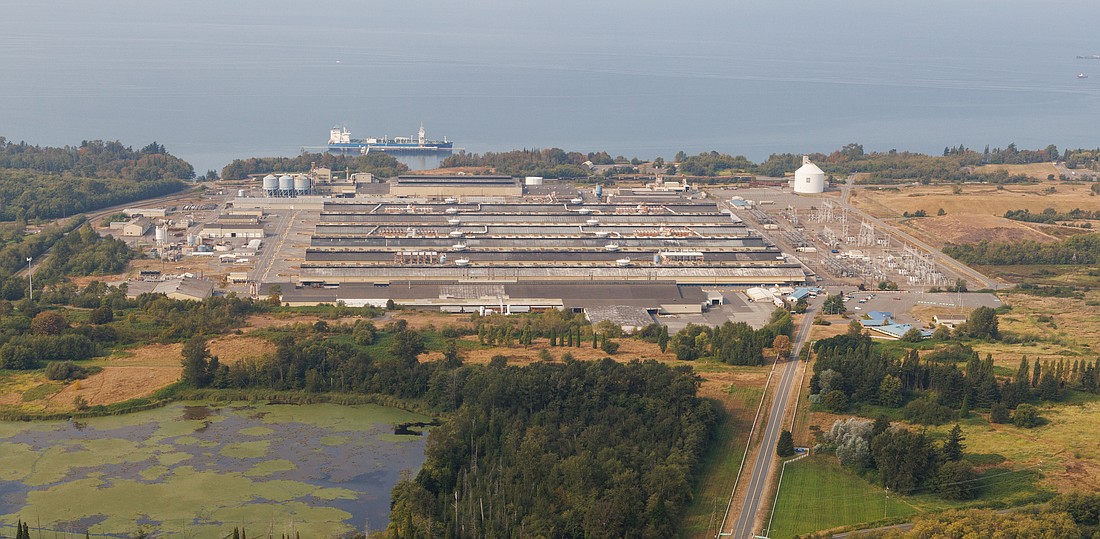 ---
---
A new buyer has committed to use the land at Whatcom County's Intalco aluminum smelter site near Cherry Point, which officially closed its doors last week after a prolonged struggle to reopen.
AltaGas, a Canada-based energy infrastructure corporation, acquired the rights to own and develop the 1,600-acre Intalco site, including existing transportation and utility infrastructure. The company, which owns the neighboring Petrogas facility, already has a vested interest in the region and purchased Intalco's pier and wharf in 2016 for $122 million. 
AltaGas was unable to say what, exactly, the company plans for the site, or how it may impact the local environment and economy in coming years. 
"We are still evaluating how the land can be used in a way that supports the ongoing energy transition, potentially utilizes existing infrastructure and is consistent with the community's values," Stephanie Cook, the manager for social impact and sustainability communications at AltaGas, wrote in an email. "We're conducting early-stage exploratory work on projects which align with Washington state and Whatcom County's climate ambitions and provide long-term, sustainable benefits to our local stakeholders."
Cook said the AltaGas projects being considered would provide "further positive economic and employment opportunities for the region," but the company is still involved in discussions with community members, including local tribes and Alcoa, the company that owned and operated the aluminum smelter for decades. 
"We value the relationships we've built in the community and will continue to look for ways to bring positive, sustainable benefits to the area," Cook added. 
AltaGas acquired a majority of the Petrogas company in late 2020, and in mid-2022, the company became the sole owner of Petrogas Energy Corp, which distributes crude oil and natural gas. Now, the company is settling longstanding environmental concerns over the Petrogas Cherry Point facility, which expanded without proper permits for years.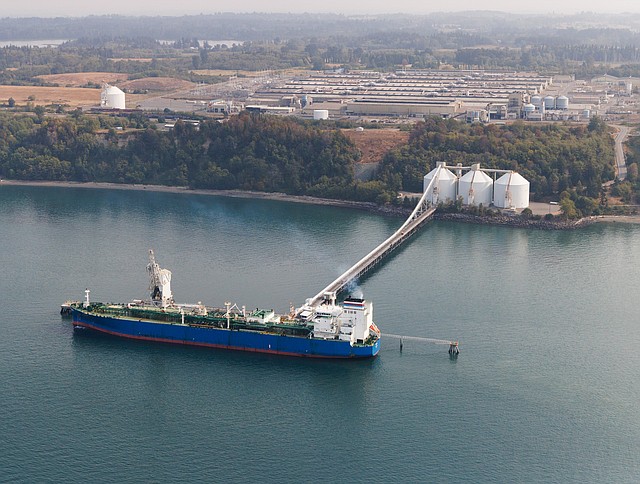 The Intalco smelter began operations in Whatcom County in 1966, employing hundreds of union workers to manage local aluminum production. The facility was mothballed in the early days of the COVID-19 pandemic in 2020. 
Significant political machinations over the past year to restart the plant — highlighted by attempts to secure affordable energy to produce what proponents termed "green aluminum" — failed to produce a rescue plan, leading to a final shutdown by owner Alcoa last week.
When the facility initially shuttered its doors in mid-2020, Alcoa told employees the company could not compete in the global market for aluminum as production costs rose, aluminum prices fell and competition increased. Today, just 19 employees remain at the site, and several have been tasked with final cleanup and shutdown at the facility. 
"The Intalco smelter site operated for nearly 55 years, and we've spent significant time evaluating options for the asset, including a potential sale," Alcoa President and CEO Roy Harvey said in a statement announcing the closure last week. "Our analysis, however, indicates that the facility cannot be competitive for the long-term."
Throughout the facility's curtailment, community members and politicians threw their support behind reopening the facility. During the 2022 legislative session, Gov. Jay Inslee included $10 million in the state budget for the facility to restart as a "green" aluminum smelter. 
U.S. Rep. Rick Larsen, too, pushed for a restart, and sought creative ways to make it happen, including possible use of the federal Defense Production Act. 
"There's a national security question about this," Larsen said in September. "Where do we get aluminum from, and where do we want to get it from?"
Throughout 2022, restarting the facility was a major talking point for local and state-level politicians, who hoped to announce the return of hundreds of jobs to the Ferndale area. Representatives from public utility groups and the Washington State Labor Council went back and forth in op-eds and public letters for months last summer, writing about power contracts, unions and "green aluminum." 
For much of 2022, Alcoa was heavily involved in negotiations to sell the facility to new operators: Blue Wolf Capital Partners, LLC. Blue Wolf backed out of those talks in late December, after they were unable to secure a below-market rate energy contract.