The A-List
A&E calendar: Scrappy sculptures, cabbage tossing, markets and music
A curated selection of happenings in Whatcom and Skagit counties
March 22, 2023 at 5:00 a.m.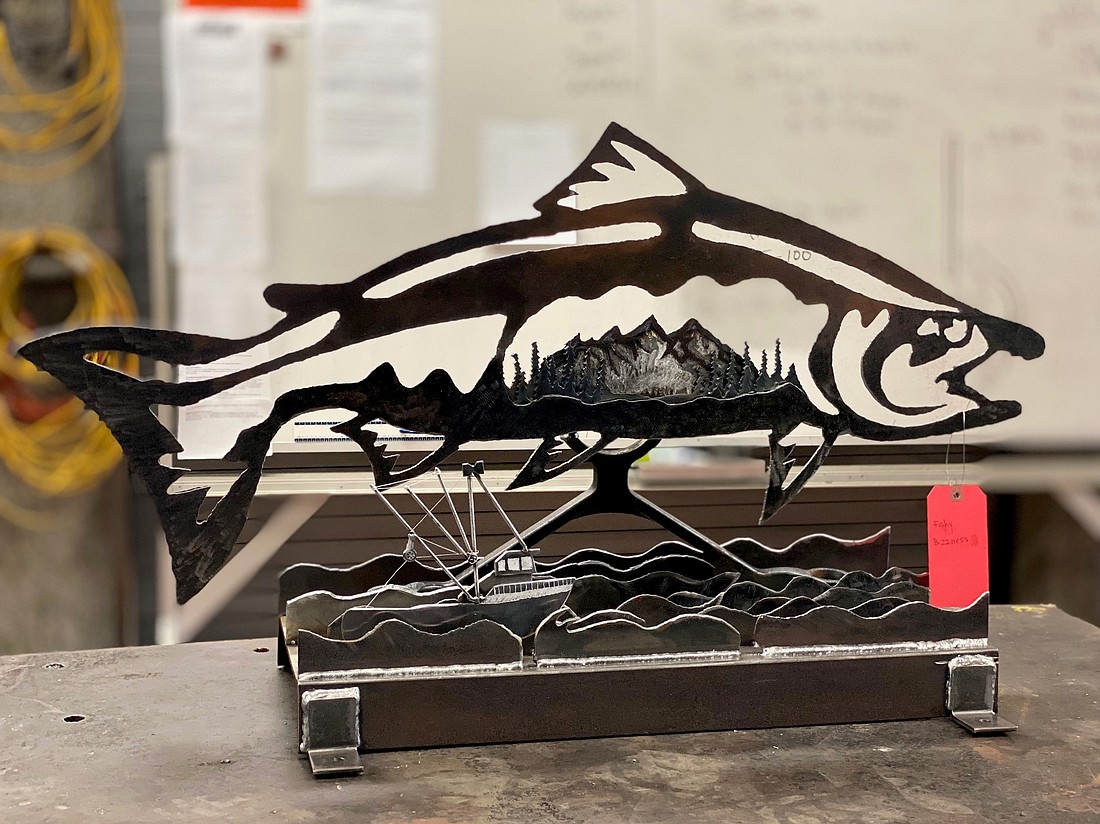 ---
---
Wednesday, March 22 
Welding Fab Week
Through March 29, Bellingham Technical College, 3028 Lindbergh Ave.
Bid on 13 different pieces BTC welding students created from scrap metal through next Wednesday. The pieces range from nature-inspired sculptures of gardens, fish and trees, to functional but beautiful benches and planters. Money raised from the auction goes toward scholarships and support for welding students. Bid online and view the sculptures in person in the Morse Center on BTC's campus during business hours. Info: btc.edu. 
Fly Fishing Film Tour
7 p.m., Lincoln Theatre, 712 S. First St., Mount Vernon
This 17th annual event places an emphasis on the people, places and fisheries that make up the vast network of fly fishing from around the world. Tickets are $18–$20. Info: lincolntheatre.org.  
Thursday, March 23
Road2Home Fundraiser
5:30–8 p.m., Twin Sisters Brewery, 500 Carolina St.
The Penny Stinkers, Chuck Dingee and Carr Johnson will perform at this event raising money for Road2Home, a nonprofit serving community members experiencing homelessness in Whatcom County. The brewery will donate $1 for every pint ordered. Info: road2home.org. 
'The Runestone's Promise'
7 p.m., Village Books, 1200 11th St.
Pacific Northwest author Mari Matthias will read from her debut novel, share her inspiration about the writing process and sign books. The novel is set in 1799 Norway and is based on Matthias' fifth and sixth great-grandmothers. Advance registration is recommended. Info: villagebooks.com. 
'The Addams Family'
7:30 p.m., Lincoln Theatre, 712 S. First St., Mount Vernon
Attend this musical comedy by META Performing Arts at shows Thursday through Sunday. Tickets are $18–$25 to see the heartwarming, blood-chilling romp featuring everyone's favorite Gothic family. Additional showings happen through April 2. Tickets are $18–$20. Info: lincolntheatre.org. 
The GBU
7:30 p.m., The Upfront Theatre, 207 Prospect St.
Bellingham's longest-running improv show, "The Good, the Bad, and the Ugly," takes place every Thursday, featuring a rotating performance format and special guest players. Tickets are $10–$15. Info: theupfront.com. 
Menace on the Mic
8:30 p.m., Menace Brewing, 2529 Meridian St.
Want to take a chance at performing standup comedy? Show up early to sign up, then stick around to see the action unfold. The free event takes place every other Thursday. Info: menacebrewing.com. 
Friday, March 24
SICBA Home & Garden Show
Noon to 7 p.m., Skagit County Fairgrounds, Mount Vernon
Live music, a make-and-take class and a Fairy House Scavenger Hunt will be part of the opening day of this event, which continues from 10 a.m. to 7 p.m. Saturday and 10 a.m. to 4 p.m. Sunday. In addition to the vendors, workshops and a garden center, there will be food trucks and beer, wine, cider and spirits tastings. Entry is $5–$7; kids 15 and under are free. Info: sicbahomeshow.com. 
Curator Tour
1 p.m., Whatcom Museum Lightcatcher Building, 250 Flora St.
Learn more about the artists and artwork featured in "Katazome Today" from the museum's Curator of Art, Amy Chaloupka. She'll discuss the history of the Japanese art technique, as well as the processes and interpretations of the contemporary artists featured in the show. The tour is included with admission. Info: whatcommuseum.org. 
'The Good Deli'
7 p.m., Blaine High School's Orange & Black Box Theater, 1055 H St.
Blaine Community Theater concludes its latest production with showings Friday through Sunday. The plot follows a comedian who is summoned home to reconnect with her estranged, dying father. A family road trip ensues. Tickets are $13–$15. Info: blainecommunitytheater.com. 
Puppet Variety Show
7 p.m., New Prospect Theatre, 207 Prospect St.
As part of the theater's Puppetry Festival — which includes workshops, puppet talks, showcases and more through Sunday — this event will highlight performances from a variety of participants at the venue's Lucas Hicks Auditorium. Info: newprospecttheatre.org. 
Quartet Integra
7 p.m., Sehome High School, 2700 Bill McDonald Parkway
The Bellingham Festival of Music and Bellingham Symphony Orchestra presents the ninth annual Pay it Forward Chamber Music Residency concert with this quartet from the Colburn School of Music. The event is the culmination of a week of outreach to Whatcom County schools by the band. Entry is free for students; optional donation is $15 general. Info: bellinghamfestival.org. 
HUMP! Film Festival
7 p.m. and 9:30 p.m., Pickford Film Center, 1318 Bay St.
Dan Savage's 18th annual curated film festival returns to Bellingham with shows Friday and Saturday. The curated, sex-positive event features short erotic films made by real people for real people, and features a cornucopia of body types, shapes, ages, colors, sexualities and genders. Tickets are $25. Info: pickfordfilmcenter.org. 
'Casa Valentina'
7:30 p.m., Bellingham Theatre Guild, 1600 H St.
Opening weekend of this play written by Harvey Fierstein features showings Friday through Sunday. Based on real events and infused with wit, this insightful and entertaining work offers a glimpse into the lives of a group of "self-made women" as they search for acceptance and happiness. Tickets are $8–$18. Info: bellinghamtheatreguild.com. 
Los Lobos
7:30 p.m., Mount Baker Theatre, 104 N. Commercial St.
Hear everything from rock to R&B, surf music, soul, mariachi, música norteña, punk rock and country when this trailblazing band from East Los Angeles comes to Bellingham. The icons will be joined by special guest Gaby Moreno. Tickets are $35–$60. Info: mountbakertheatre.com. 
Genre Legends
7:30 p.m., The Upfront Theatre, 207 Prospect St.
Improvisers will tell stories in three different genres every Friday and Saturday in March. At 9:30 p.m., stick around for March Comedy Madness. Tickets are $10–$15. Info: theupfront.com. 
Saturday, March 25
Fairhaven Plant and Tree Sale
10 a.m. to 3 p.m., Hillcrest Church, 1400 Larrabee Ave.
Purchase plants and other garden items directly from a variety of community-minded local and regional growers. Shoppers will find a huge range of perennials, veggie starts, specialty grasses, carnivorous plants, ornamentals, trees, native plants, specialty edibles, herbs, berries, bamboo, metal art and more in the church's parking lot. Admission is free. Info: 360-220-4747.
Spring Makers Market
10 a.m. to 4 p.m., Depot Market Square, 1100 Railroad Ave.
Bellingham Makers Market will host this event featuring more than 80 vendors. Shoppers will find everything from soaps to sustainable items, clothing, candles, jewelry and more. Entry is free. Info: bellinghammakersmarket.com.
Gem and Mineral Show
10 a.m. to 6 p.m., Pioneer Pavilion, 2007 Cherry St., Ferndale
Mount Baker Rock and Gem Club hosts this event taking place Saturday and Sunday. Rocks, minerals, fossils, gems, jewelry, demos, dealers, exhibits, door prizes, raffles, a silent auction, food service and activities for kids will be part of the free event. Info: mtbakerrockclub.org. 
Skagit Symphony
7:30 p.m., McIntyre Hall, Mount Vernon
"It Takes Two to Tango" will be the theme of this concert, which will feature waltzes, hoedowns and tango. Harpist Rosanna Moor and cellist Nicholas Finch will join in to present the U.S. premiere of Canadian prize-winning composer Kelly-Marie Murphy's "En el escuro es todo uno" ("In the darkness, all is one"). Tickets are $10–$50. Info: mcintyrehall.org. 
Sunday, March 26
Cole Anderson
4 p.m., Lairmont Manor, 405 Fieldston Rd.
Works by Schubert, Rave, Piazzola, Nahre Sol and Sibelius will be on the lineup when this pianist returns to his hometown to share his formidable talents. Tickets are $5 for students, $20 general. Info: brownpapertickets.com. 
Monday, March 27
John McCutcheon
7:30 p.m., Lincoln Theatre, 712 S. First St., Mount Vernon
Folk music's "rustic renaissance man" — known as a virtuoso instrumentalist, singer-songwriter, storyteller, activist and author — brings his myriad talents to town for one night only. Tickets are $24–$39. Info: lincolntheatre.org. 
Tuesday, March 28 
Early Music Festival
7 p.m., Fir-Conway Lutheran Church, 18101 Fir Island Rd.
"Obbligato Harpsichord and Flute" will be the focus of this early chamber music concert featuring renowned Chicago-based harpsichordist David Schrader and flutist Jeffrey Cohan playing works by Bach, Joseph Bodin de Boismortier, Georg Philipp Telemann and others. Suggested donation is $20–$25 (free for youth 18 and younger). Info: salishseafestival.org. 
Thursday, March 30
Creed Bratton
8 p.m., Wild Buffalo, 208 W. Holly St.
In this rescheduled performance, "The Office" actor and musician will bring both comedy and music to the stage. Local stand-up comedian Sean Flikke will open the show. Tickets are $22. Info: wildbuffalo.net. 
Friday, March 31
NW Guitar Festival Concerts
1 p.m. and 8 p.m., Performing Arts Center MainStage, WWU
As part of this event taking place throughout the week on campus, guitarist and recently retired Professor of Music David Feingold will perform at the early show. The later concert will feature Elizabeth Brown, who is a specialist in standard classical guitar as well as early guitars and lutes. Tickets to the concert are $15 for students, $30 general. Info: tickets.wwu.edu. 
Sona Jobarteh
7 p.m., McIntyre Hall, Mount Vernon
Jobarteh, a Gambian vocalist, kora master and multi-instrumentalist, is the first female griot artist within the more than 700-year-old tradition to become a professional virtuoso on the kora. Tickets to hear the West African artist are $33–$43. Info: mcintyrehall.org. 
Afterglow Comedy Hour
9 p.m., Stemma Brewing Co., 2039 Moore St.
This monthly stand-up comedy event hosted by Nikki Kilpatrick will feature sets by Brett Emerson, Jay Markovitz, Claire Jones and Ryan Danley. Jaren George will be the featured act. Tickets are $10 and advance purchase is required. Info: stemmabrewing.com.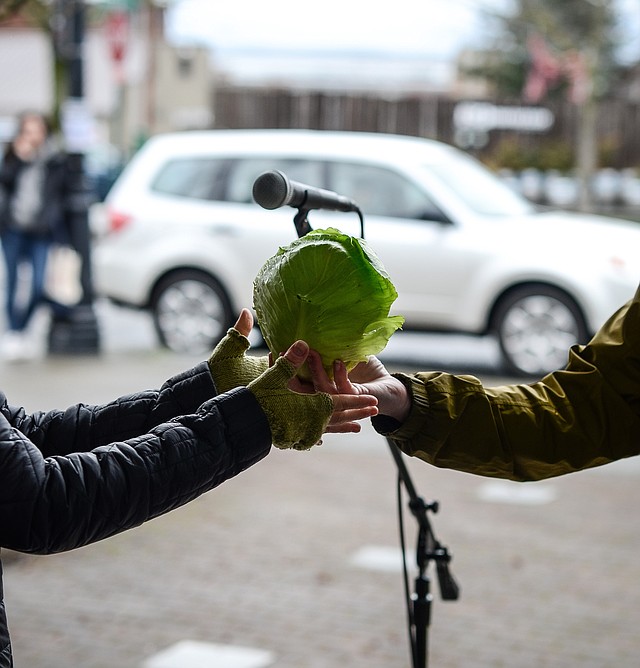 Saturday, April 1
Bellingham Farmers Market
10 a.m. to 2 p.m., Depot Market Square, 1100 Railroad Ave.
An expected 90 vendors from Whatcom and Skagit counties will be on site for opening day of the weekly market, which continues every Saturday through Dec. 22. Show up at 9:45 a.m. to see Mayor Seth Fleetwood at the annual cabbage toss, then stock up on local produce, baked goods, gluten-free items, jewelry, pottery and more. Info: bellinghamfarmers.org. 
Dockside Market
10 a.m. to 2 p.m., Fisherman's Pavilion, Squalicum Harbor
Local fishermen will be selling their fresh and frozen wares at this twice-monthly market. Visit the dock early to find the best selection of seafood options. Details and participating vendors and products are posted 24 hours ahead of sale days. Info: bellinghamseafeast.org. 
Skagit Chili & Chowder Cook-off
1–4 p.m., Farmstrong Brewing, 110 Stewart Rd., Mount Vernon
The Mount Vernon Chamber of Commerce hosts this event, which will feature a number of submissions from around the city. Entry is $15 and gets you six samples and a vote (plus a large portion of your favorite). Info: mountvernonchamber.com. 
Spring Show Opening Reception
2–5 p.m., River Gallery, 19313 Landing Road, Mount Vernon
Paintings, sculptures, jewelry, photography and glass from a variety of local and regional artists will be on display at this seasonal show, which can be viewed from 11 a.m. to 4 p.m. Wednesdays through Sundays through April 30. Info: rivergallerywa.com. 
Sunday, April 2 
Shoulder Season Makers Market
4–8 p.m., Kulshan Brewing, 1538 Kentucky St.
More than 30 local makers will share their wares at this event, whose goal is to celebrate outdoor-minded femme creatives in the outdoor community during the transition of the season. Participating vendors will donate 10% of sales to the Bellingham Food Bank, and Kulshan will be donating $1 per pint sold from 5–9 p.m. Info: kulshanbrewing.com. 
Before heading out to attend in-person happenings, check with individual venues to make sure the event is still taking place as scheduled.
The A-List appears weekly on Wednesdays. To submit an event for consideration, email calendar@cascadiadaily.com.