Business Matters
Analysis finds long-term, Whatcom median home prices still increasing
'Middle-income' housing sits well below median price
March 22, 2023 at 4:50 a.m.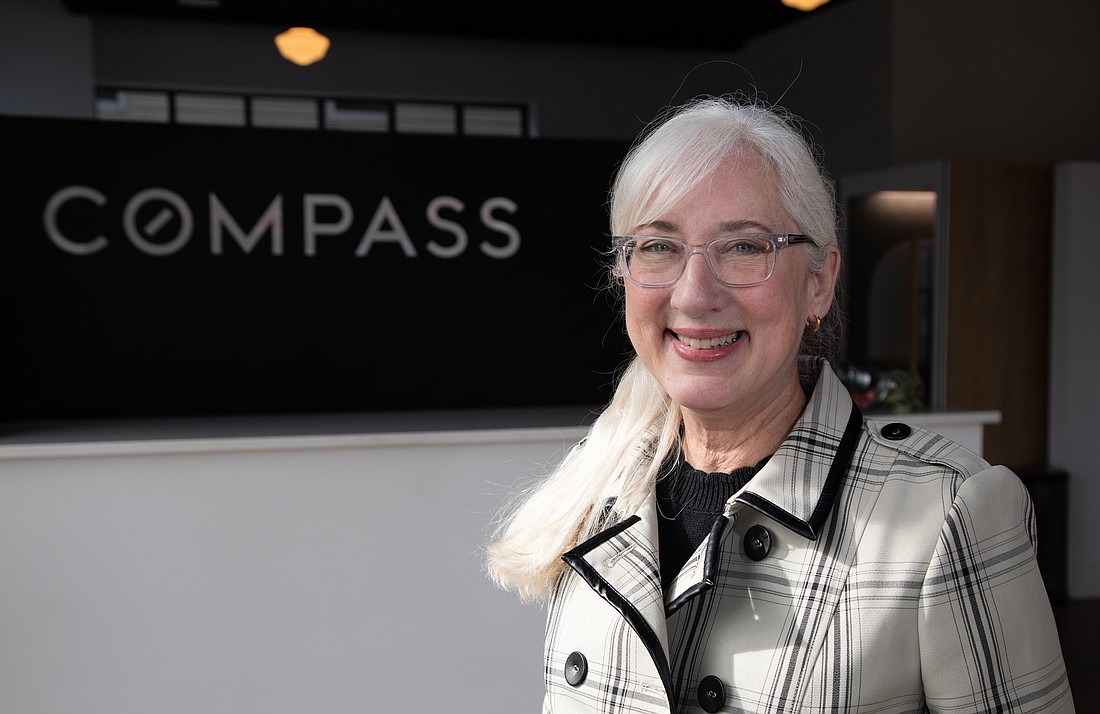 ---
---
A missing middle. A new analysis of home sales in Whatcom County since the start of 2022 reveals that "median" is not synonymous with "middle-income" or affordable housing. But "manufactured" shouldn't be overlooked.
The analysis — completed by Gennie Clawson, real estate agent with Compass Real Estate in Bellingham using Northwest Multiple Listing Service data — was spurred by her question: What are the differences in types and location of homes that sell at or below the median price locally? 
These homes are on the less expensive side of all home sales, since the median price is the middle dollar value at which half of home sales are higher and half are lower. It's also likely the entry point for first-time home buyers. 
"Home ownership is the cornerstone to building long-term wealth," Clawson said about her interest in taking a deep dive into the data. "Despite the increase in interest rates, median home prices here continue to rise because of inventory constraints, making the opportunity to purchase harder to achieve." 
So digging into below-median prices may identify where there are opportunities. Or at least trends.
Despite median price declines reported in some individual months, the longer-term analysis finds median selling prices have steadily climbed. On a trailing 12-month basis, in February 2023 the median prices increased to $575,000 in Whatcom County as a whole and $635,000 in Bellingham. For the 12 months ending in December 2022, the median had been $572,500 in Whatcom and $630,000 in Bellingham.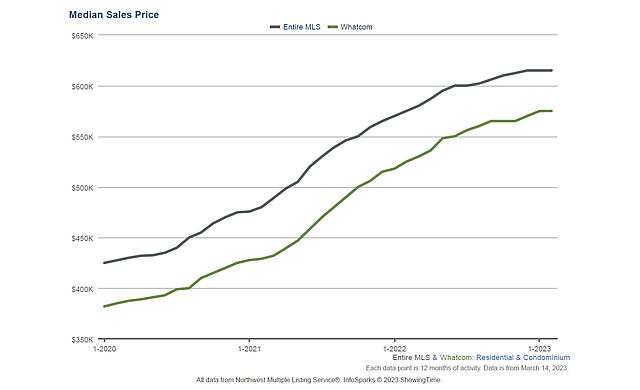 These numbers include single-family homes, condos and townhouses, the types of housing traditionally included in home sales reports. When you add in manufactured homes, the Whatcom median price falls to $559,000 for the entire 14-month period — and manufactured housing accounted for 12% of all home sales across the county.
Location, too, matters. Clawson found the lowest neighborhood-level median prices in Bellingham compared to the overall county median were in downtown ($350,000), Bakerview ($395,000), Sehome ($435,000), Cordata ($465,000), Happy Valley ($528,000), Birchwood ($530,000), Roosevelt ($540,000) and Sudden Valley ($550,000).
In Whatcom County, the lowest median price for all housing types was in the community of Maple Falls ($175,000). Maple Falls also had a huge proportion of manufactured home sales: 116 of the 176 total homes sold in the 14-month period, or 66%.
Manufactured's prominence in the below-median mix is obvious countywide. Looking at all Whatcom County sales above and below median for the 14 months, 74% were single family homes, 14% were condo or townhouse and 12% were manufactured homes. At or below median, the makeup shifts to 53% single family, 24% condo or townhouse and 23% manufactured. 
"Manufactured housing represents an affordable option, especially for fixed-income buyers," Clawson said. "While they make up a material portion of annual transactions, they are typically excluded from stats because they often exclude land ownership."
Manufactured homes "are an essential part of our single-family homes and reflect a more affordable housing option for our community," confirmed Scott Pelton, manager of the Whatcom Housing Alliance and program manager for housing and smart growth at the nonprofit Sustainable Connections. 
Yet pulling back to look at the big picture, Pelton said even median-priced homes "are not affordable housing prices to our middle-income community." 
"The median household income in Bellingham is about $60,000 and you are considered cost burdened if you are spending more than 30% of your income on mortgage or rent," he said. "To purchase a median-priced home in Whatcom County you need a household income of about $137,000. To purchase a home in Bellingham, you'd need a household income of about $159,000."
Boston Consulting Group (BCG), which worked with Challenge Seattle on a statewide housing affordability report issued earlier this year titled "The Conspicuous Crisis" that called for more "middle-cost" housing, appeared to agree. 
"A median-priced home is not necessarily affordable to middle-income households," said Shannon Campbell, project leader at BCG. 
Campbell calculated the "middle-income" range, using BCG's definition and 2021 data, would top out at just over $86,000 in Whatcom County. As of early March, BCG estimated that income level would have been far less than what's recommended to buy a median-priced home in the county at prevailing mortgage rates.  
Housing in many communities at their median prices, even if below the countywide median, are also potentially hard to afford. Using Bankrate's mortgage calculator and assuming a 30-year-fixed loan, 7% interest, a 20% down payment and the 30% of income guideline, the downtown Bellingham median of $350,000 — where condos dominate — would put its affordability roughly equal to the top end of BCG's middle-income span. 
Other Whatcom County communities in reach, based on the data in Clawson's analysis, include Kendall — where more than a third of home sales were manufactured homes — and, of course, nearby Maple Falls. 
Both Campbell and Pelton emphasized that higher housing prices have downstream effects on renters who also can become cost-burdened as housing stock gets more expensive.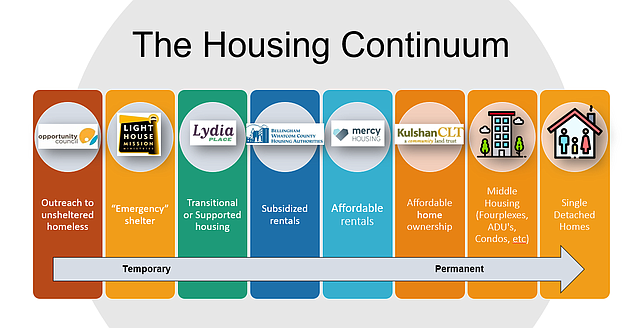 "It is essential that we increase middle-housing supply to support our public employees, food service staff, trade workers, teachers and emergency workers," Pelton said, citing the duplexes, triplexes, row houses and townhomes that WHA defines as middle housing. 
"We've reached the point where we've even priced firefighters out of the very homes they are paid to keep from burning down," he said. "We've made it a luxury to live here and we're not building enough housing options to resolve that paradox."
Meanwhile, the traditionally busy spring buying season has begun. Clawson, a 27-year Bellingham resident, hoped her analysis wouldn't discourage anyone who wanted to pursue home ownership. 
Even with signals that the strong sellers market will continue — and even without any revealed secret bargains — she said "buyers can still prevail when working with an experienced Realtor who can guide and negotiate." 
"Those who are able to get in the market, tolerate a fixer upper or be willing to live a little farther out of town, even with higher interest rates, are going to benefit from an increase in equity over time and will likely have the opportunity to refinance when interest rates drop again," Clawson said. "This is a key to building long-term financial security." 
Places & Things
Raven Bakery opened March 11 at 205 Prospect St., suite 101 in downtown Bellingham. Owner Sophie Williams said she began the business that makes "excellent rustic Northern European style sourdough breads" and pastries in 2014, selling wholesale, at farmers markets and by subscription. Now, Raven has a retail storefront. Regular hours are Wednesday through Saturday, 8 a.m. to 2 p.m.
(For the latest Places & Things, check here throughout the week.)
Frank Catalano's column appears Wednesdays. Email: frankcatalano@cascadiadaily.com; Twitter @FrankCatalano.