Profiles
Bellingham artist looks for the light
Leslie Mason is swept away by stained glass
March 22, 2023 at 5:55 a.m.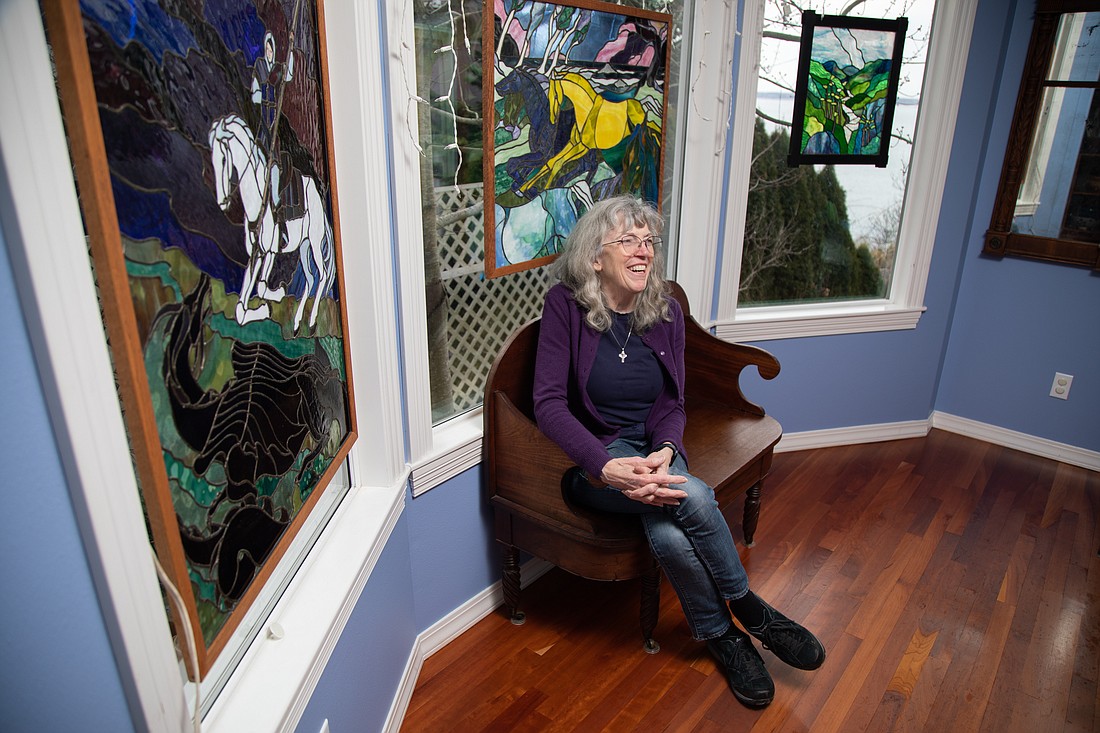 ---
---
The first time stained glass artist Leslie Mason walked into Christ Episcopal Church in Blaine, she thought "How can I keep going here? The windows are hideous! Purple and green diamond shapes with heavy lead and a lime-green border!"
"It was like being in prison," she said. 
But, she noted, the church organist, Carl Bradley, found out she was a glass artist, and she was soon commissioned to re-lead all the old windows.
"My goal from the beginning was to actually replace all the windows," Mason said, "but that was a start." 
A visit from Bishop Vincent Warner inspired her, she said, because his robe was covered in diving birds. She realized she could push for including nontraditional subjects in the windows. Through funding from church members, she started working on new windows that wrapped around a large crucifix window in the rear of the church. 
There are now 13 bird windows around the original window, and she said it brought a lot of life — and light — into the church.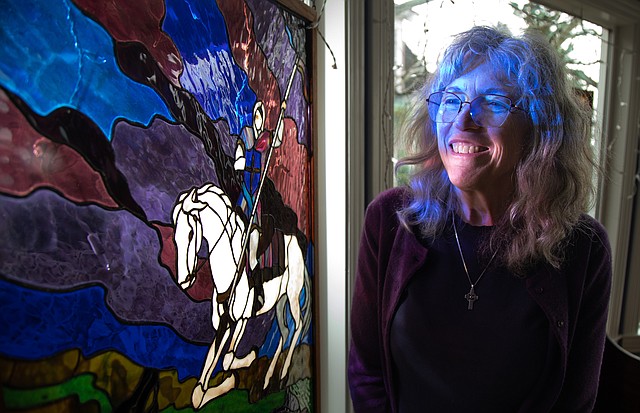 Subsequently, Mason, who's 73 years old, created the windows over the altar and, later, angels-of-peace windows as a gift to the church after the priest at the time, Rev. Andrea McMillin, pushed through the bigger project of replacing the windows. Members of the congregation sponsored the purchase of the windows, mostly in memory of loved ones. 
"The most bizarre thing happened when the first four were installed together," Mason said. "It looked like the wall moved out. The old windows had made the church look small and narrow, but the new windows allowed so much more light in that it made the room feel wider."
After talking with McMillan, they decided a good subject matter for more windows would be landscapes and seascapes between Bellingham and Blaine, so Mason took lots of photos and worked from there. 
Before she started making the church landscape windows, she spent hours looking at glass samples to figure out the glass for the whole project. McMillan interviewed nearly every person in the church about the project and Mason did a presentation of watercolors showing the ideas she had.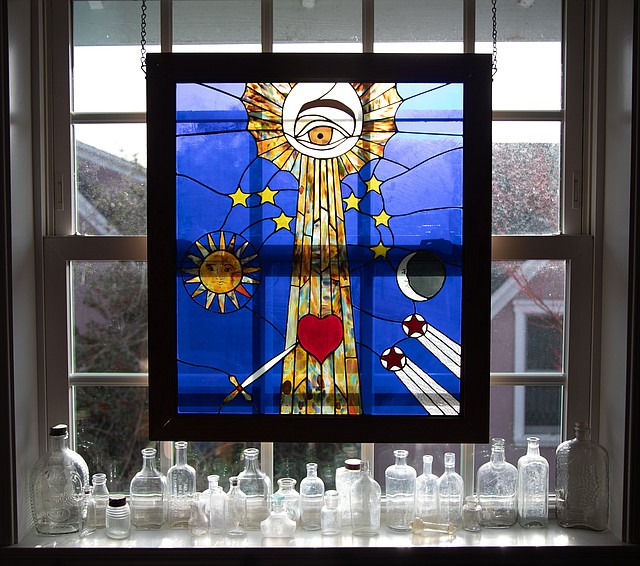 "Much to my wild enthusiasm," Mason said, "it all got to happen. When I got the approval, I worked seven days a week, sometimes all day and into the night, for a year and a half. I had so much fun, I just couldn't stop myself." 
Mason was a "Waldorf kid" and always enjoyed creating art. Her parents were painters, as well. She said her education at a Waldorf School — which focuses on holistic education intended to develop pupils' intellectual, artistic and practical skills — from second to ninth grade helped shape who she is both as a person and as an artist. 
Mason majored in painting and drawing at California State University Long Beach, and after graduation, she and her parents moved to Malibu, where she took a weekly stained-glass class at Pepperdine University.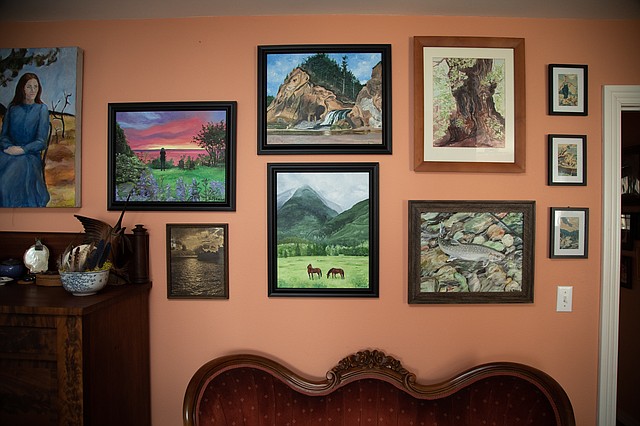 However, she said, her first and most memorable experience of seeing light coming through something was when she was at Cal State.
"I was sitting, having lunch, outside the art department with a friend," she said. "I wound up looking at the light through an orange segment. It really fascinated me." 
At the stained glass class at Pepperdine, Mason was "completely swept away," and she took other classes when she later moved to Washington state. 
Mason's process starts with the subject matter, which is usually nature-related. She decides on what she's doing and makes a sketch, which leads to a full-size drawing on pattern paper. She then makes a carbon copy which she cuts up to use to trace on the glass. Then she starts cutting, shaping and copper-foiling as she goes. She assembles the window against a wooden right angle and works outward.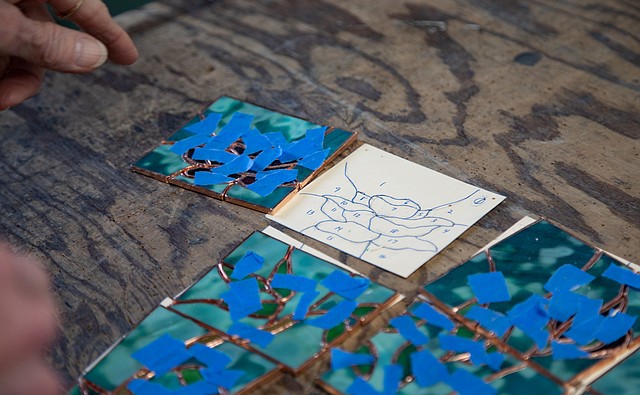 Finally, she solders it, cleans it with a 50/50 solution of rubbing alcohol and water, patinas it, cleans it again and waxes it. 
Mason sources her glass products from Northwest Art Glass, a  large wholesaler in Redmond, and picks out what she likes. 
"It's like a giant candy store," she said.
Her favorite windows at Christ Episcopal Church are probably the angels of peace, she said. 
The backstory, she explained, was that she had attended a concert featuring fiddler Alasdair Fraser and cellist Natalie Haas with her daughter, well-known Bellingham cellist Clea Johnson. During the concert, Fraser told a story about going on a walkabout around the Ring of Fire, a region around much of the rim of the Pacific Ocean where many volcanic eruptions and earthquakes occur. There, he saw people of many nationalities.
The tale inspired Mason to make windows of multicultural angels.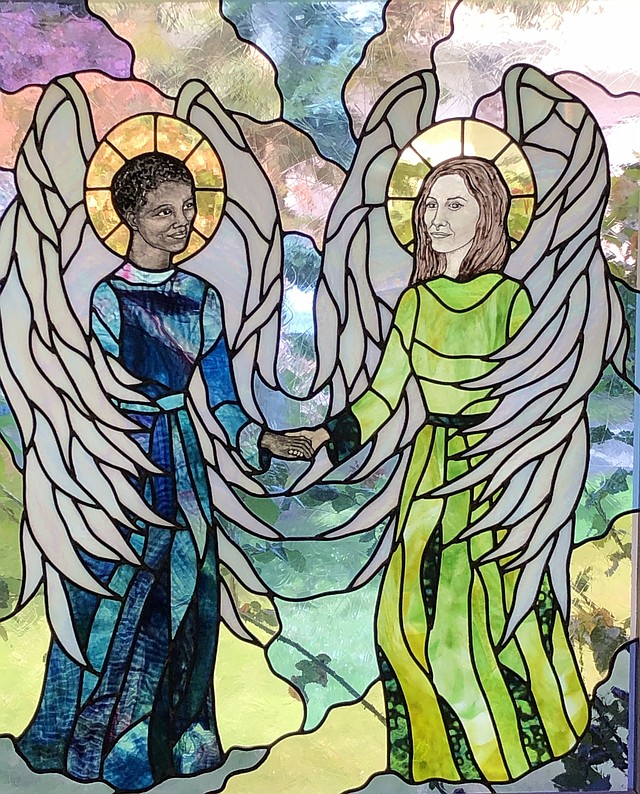 "I subsequently, and with more thought of peace in the world, decided to make them angels of peace," she said. "I am particularly happy with the window of a Black woman and a white woman holding hands, as well as an Israeli man and a Palestinian woman being together peacefully. The whole project was a very joyful experience." 
Mason has returned to painting this year and is enjoying that, as well. She has created many windows for people around the Pacific Northwest, and although she's semi-retired, she still does special projects when they come up.
She always makes her own designs and she especially loves it when people give her free rein of subject matter.
If Mason's not making art, she likes to be outside in nature with her family, enjoying mushroom- or agate-hunting. 
"I have a happy life," she said. 
To learn more about Leslie Mason and her work, go to naturalglasstudio.com.