Track & Field
Bellingham coach eclipses all expectations
Morgan Annable is pole vault coach for all three local high schools
March 22, 2023 at 5:55 a.m.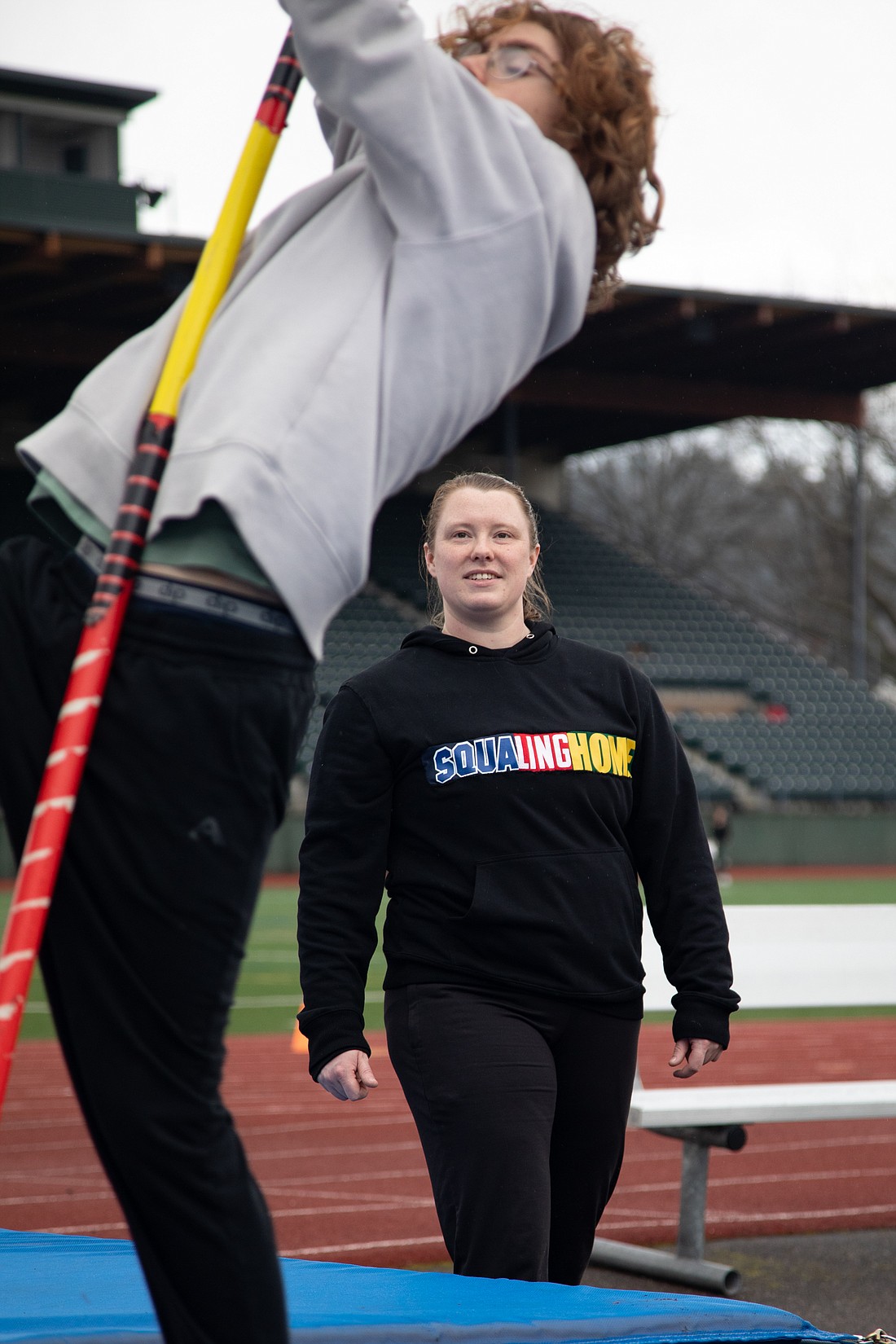 ---
---
The rare case of shared coaching — when one coach oversees athletes from multiple high schools in one sport — is permitted in Washington state for just three sports: swim and dive, gymnastics and pole vaulting.
A shared coach will only be approved by the Washington Interscholastic Activities Association (WIAA) for a situation that is "determined to pose a safety or health concern for student-athletes due to the qualifications or lack thereof of available coaching staff," per the WIAA handbook.
Morgan Annable, the pole vault coach for Bellingham, Sehome and Squalicum high schools, is one of those rare cases. She fondly refers to her team as SquaLingHome Pole Vault and wears a handcrafted T-shirt at meets that features aspects of shirts from all three teams.
Annable, 28, is a former athlete and pole vaulter for Western Washington University track and field who continues to channel her passion for the sport into possibly the most difficult coaching situation in the state.
But that's not all.
Annable works full-time at Squalicum where she is the site coordinator for an outside student support organization, Communities in Schools, helping students through personal and academic struggles both in and out of the classroom.
Luckily, Annable, who currently coaches 16 total pole vaulters from all three Bellingham high schools, has brought in a reinforcement.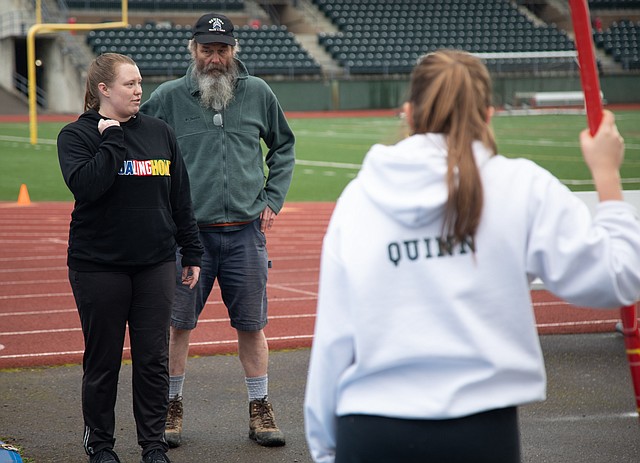 Her father, Jody Stecher, is the new assistant coach for SquaLingHome after previously being the pole vault coach at Newport High School in Oregon — the school Annable hails from — from 2015–2021, and he temporarily moved to Bellingham for the duration of the high school track and field season.
Despite her heavy workload, Annable is living the life she has always wanted to live. She has known she wanted to be a high school pole vault coach since she was 13.
"I get to do that," Annable said. "I get to live eighth-grade Morgan's dream, and I still love it."
From athlete to coach, and vice versa
Annable began pole vaulting in sixth grade and immediately became infatuated with the sport due to its in-air nature and technical complexity.
Stecher, 63, joined the pole vault staff as a parent volunteer that same year, and the two slowly began to learn the sport together. The following year, Stecher had rearranged his work schedule to be able to attend most practices and meets.
Part of that discovered enjoyment is a credit to Annable's middle and high school coach at the time, John Ball.
"[Ball] was about as patient a man as we know," Stecher said. "He would be willing to teach a banana slug how to pole vault."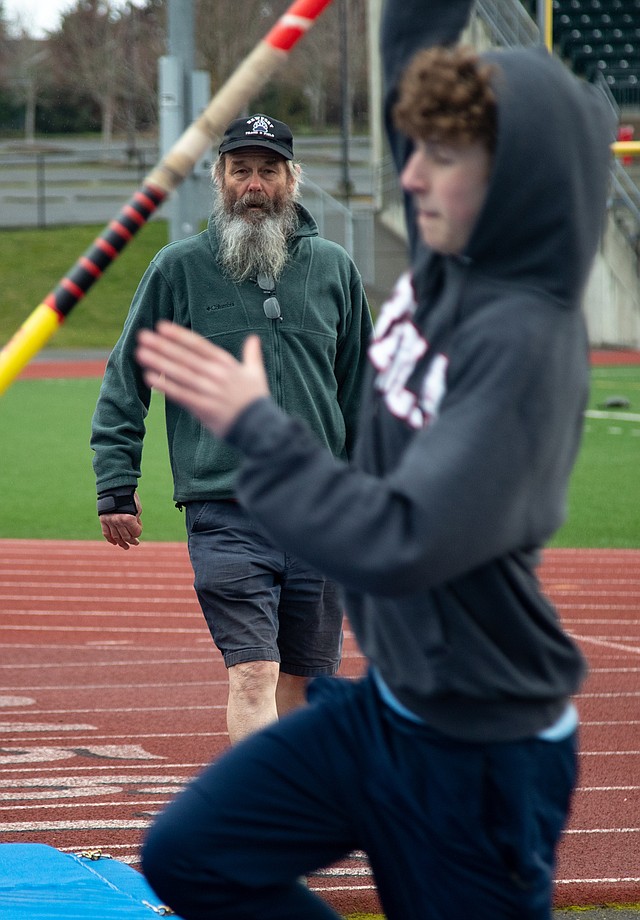 In summer 2008, after Annable's seventh-grade year, Ball asked Stecher if he wanted to try vaulting himself. Stecher was all in, and eventually, he joined his daughter in competing at open track and field meets.
"My first competitive meet was when I was 48," Stecher said.
Stecher and Ball worked together to coach middle and high school pole vaulting for the next few years, and Annable graduated in 2013. Stecher took over the head role after Ball retired in 2015.
"I've always kind of joked that pole vaulting runs in the family, but it runs backwards," Annable said.
Sharing in coaching, struggles and passion
Three-and-a-half years into her collegiate career, the longtime pole vaulter made the difficult decision to stop competing after struggling with a persistent back injury. 
She was on the phone the very next day, in early April 2016, calling local high schools to see if any coaching positions were available.
"When I couldn't vault anymore competitively, I knew I couldn't just leave the sport behind," Annable said. "It's too much ingrained in me; it's just a part of who I am."
Annable began as a volunteer assistant coach for Bellingham and Sehome in 2016 while still attending Western as a student. She graduated from Western with a bachelor's degree in English in June 2017, with a concentration in creative writing and secondary education endorsement.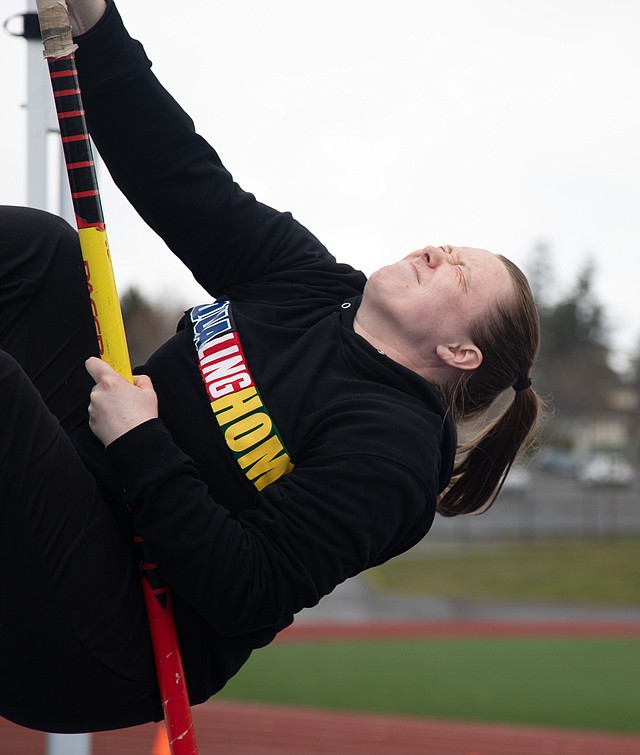 When former head coach KC Halik left for another job in 2018, Annable took on the lead role for both Bellingham and Sehome's pole vaulters. Then Squalicum's coach left in 2020, just before the nine-day, COVID-19-shortened season, and Annable has coached all three schools ever since.
Stecher also endured the shortened 2020 season at Newport before coaching again in 2021. He was traveling for work in 2022 and spent a year away from the sport as a result.
That's when the father and daughter began to talk seriously about finding a way to coach together. They have already hit their stride as a coaching duo three weeks into the season, noting it's been a seamless transition.
A balance has already formed with who will take the lead in certain scenarios, and Annable said she never feels like her authority — as head coach — is jeopardized. 
"The opportunity to work with somebody who, obviously, I love very much, but also I know very well in terms of her background, is really rewarding," Stecher said.
A mentor in sports and the classroom
Annable typically arrives at Squalicum around 7:45 a.m., and even earlier during the track and field season to accommodate the work she won't have time for after school due to practice.
Her mornings consist of working with students in her office, one-on-one, with academics and talking through life issues such as a lack of support at home, food insecurity, violence, or a range of other topics and unique circumstances.
Annable's door is open to everyone.
"They could bring anything into my office — anything," Annable said. "I don't know on a day-to-day basis what kind of struggles a student might be going through that they'll come to me with. It makes me really proud and honored that I am someone they feel comfortable with."
At lunchtime, she typically has six to 10 students in her office working on crafts or playing games. One game has been particularly popular as of late.
"They're really, really into Uno," Annable said with a laugh. "They love it. It's such a fun way to let the students explore their competitive side in a safe and positive way."
Afternoons are generally quieter, she said, and that's when she works on the record-keeping and data-management portions of her job. 
The bell rings, signaling the end of the school day, and Annable jets off to practice which begins at 3:45 p.m. Though practices are supposed to end at 6 p.m., they rarely do when passionate pole vaulters get on a roll.
"There are some athletes who will just keep going and going for as long as we'll let them, which I love," Annable said. "They'll stay until it starts getting dark, and so will I — I love it. If I don't have something else I have to do afterward, I can be tempted to stay pretty much as long as the athletes want to. I think I feel that way because I was that athlete when I was in middle school and high school … I never wanted to stop."
Logistics can be nightmarish
Communication remains the biggest hurdle when coordinating practices and meets for athletes from three schools, Annable said. SquaLingHome practices three times a week at Civic Stadium, twice a week at Sehome and once at Squalicum. 
Since athletes often compete in various events, it's not guaranteed every pole vaulter will be at every practice.
"We will have athletes from all three schools at a location, so their head coaches might not know if they're at practice or not," Annable said. "That kind of constant communication is super important."
Annable and Stecher also are not able to be at every meet. In past seasons, Annable would generally stay with whichever school was hosting at Civic Stadium if all three of her schools were competing in different meets.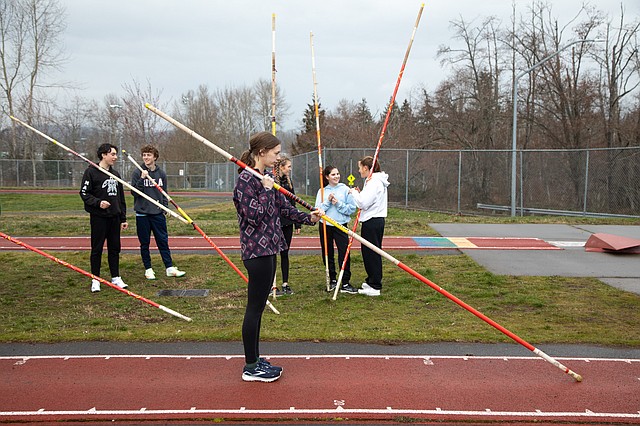 That means up to two schools won't have a pole vault coach at their travel meet, and that requires extra preparation for those athletes. Being honest and upfront with them is key, Annable said.
"Right from day one, I teach them to kind of look out for each other, and ways to support each other," Annable said. "I think having that as part of their background is really helpful for them when they go to meets. They can kind of help coach each other in a way and at least be supportive of each other."
Annable prints out all three schools' schedules at the beginning of the season and plans where she will be each week. This season, each school will only have to be without her or Stecher one time.
"It just takes sitting down and working through the logistics," Annable said. "It'll take me several hours on a weekend of just sitting down and looking through all of that."
Stecher noted that pole management is especially difficult with three schools, and it's made more so since it's against the law in Washington state for vaulting poles to be transported in the passenger area of school buses — a method that was permitted in Oregon. 
Annable and Stecher have the logistical nightmare the day before a meet of coordinating which athlete needs what pole (they vary in stiffness, length, etc.), dropping off those specific poles at one of the three high schools for transport on top of a district van with a roof rack, leaving enough ratchet straps with the poles and ensuring somebody knows how to strap them on top of the van.
"Some of my athletes have actually made the analogy that it's like I'm always playing chess," Annable said. "It's true; I always have to think several moves ahead."