The A-List
A&E calendar: Parades, tours, festivals and stand-up
A curated selection of happenings in Whatcom and Skagit counties
May 24, 2023 at 5:05 a.m.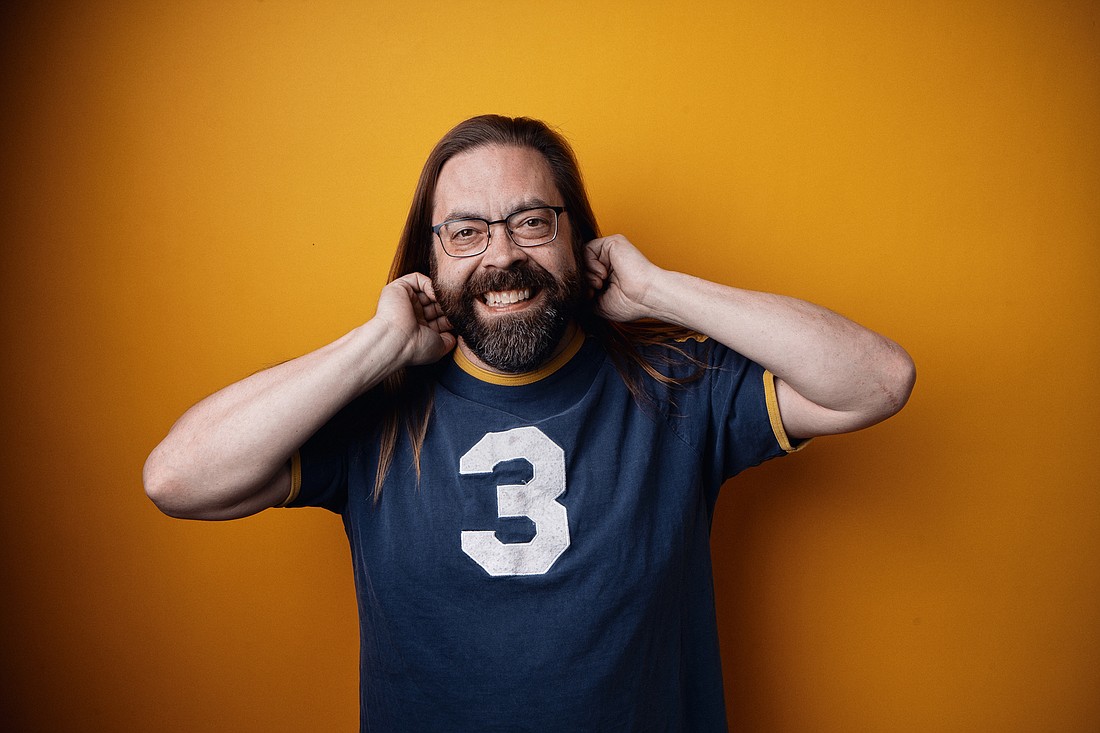 ---
---
Wednesday, May 24
Ski to Sea Book Sale
10 a.m. to 6 p.m., Bellingham Public Library, 210 Central Ave.
This four-day sale continues through Saturday. Find fiction, mystery, history, cookbooks, gardening, sports, sci-fi, travel, reference, children's, metaphysical, religion, business, poetry and classics, local and vintage books, plus DVDs, CDs and audiobooks. Most books are priced at $2 and media at $1. Info: bellinghampubliclibrary.org. 
'The Mountain Runners'
6 p.m., Pickford Film Center, 1318 Bay St.
In anticipation of Ski to Sea and the new Whatcom Museum exhibit opening May 27, "Mountain Runners: America's First Endurance Race and its Legacy Today," watch this locally produced 2012 docudrama about the first run in 1911, the Mount Baker Marathon. Tickets are $9–$12. Info: pickfordfilmcenter.org. 
Thursday, May 25
Meet-A-Truck
1–3 p.m., in front of City Hall, 210 Lottie St.
Come check out the big trucks and equipment that keep our streets, storm drains, sewer and water lines running smoothly. Bring the kids along for activities, crafts and a scavenger hunt. Entry is free, and no RSVP is necessary. Info: 360-778-7900 or cob.org. 
'Tidal'
5:30 p.m., FireHouse Arts and Events Center, 1314 Harris Ave.
A community exchange hosted by Kuntz and Company will explore photography, poetry, music and movement by numerous dancers and community members at this "research" event. Watch, respond and question the creators as they produce a new work. Reserve a seat in advance for the free event. Info: kuntzandco.org. 
Rebekah Anderson
6 p.m., Village Books, 1200 11th St.
This local author will discuss her debut novel, "The Grand Promise," a work of literary fiction about the real communities impacted by the construction of the Grand Coulee Dam in the 1930s, including the destruction of salmon runs and traditional sites of the local tribes along the Columbia River. Please register in advance. Info: villagebooks.com.
MVHS Instrumental Music  
7 p.m., McIntyre Hall, Mount Vernon
All are welcome at this finale concert for Mount Vernon High School's instrumental program. The year-end event is a culmination of the music students' accomplishments. Entry is pay what you wish; arrive early to avoid lines. Info: mcintyrehall.org.  
Vox Pacifica
7 p.m., First Congregational Church of Bellingham, 2401 Cornwall Ave.
At concerts Thursday and Friday, this women's chorus will present "Ageless Wisdom," a vocal celebration of collective life experiences such as joy, rage, sorrow, compassion, adventure and more. Tickets are $10–$20. Info: voxpacifica.org. 
'The New Electric Ballroom'
7:30 p.m., The Happy Place, 1215 Cornwall Ave.
Thursday through Saturday, attend Idiom Theater's production of this play by Edna Walsh about small-town life and a family trapped in their own stories. Warnings: partial nudity, talk of sexual assault, broken hearts, arrested development, fishmongers, cursing, blasphemy and food thrown in anger. Tickets are $20. Info: idiomtheater.org. 
The GBU
7:30 p.m., The Upfront Theatre, 207 Prospect St.
Bellingham's longest-running improv show, "The Good, the Bad, and the Ugly," takes place every Thursday, featuring a rotating performance format and guest players. Tickets are $10–$15. Info: theupfront.com. 
'Singin' in the Rain'
7:30 p.m., Anacortes Community Theatre, 918 M Ave.
This musical based on the classic film concludes this week with showings Thursday through Saturday. Tickets are $25. Info: acttheatre.com. 
Friday, May 26
'The Jungle Book'
7 p.m., BAAY Theater, 1059 N. State St.
Friday through Sunday, Bellingham Arts Academy for Youth students ages 9–12 will continue its run of this popular musical about a human boy named Mowgli and his animal friends. Different casts will perform through June 4. Tickets are $12. Info: baay.org. 
'The Book of Will'
7:30 p.m., DUG Theater, WWU
Find out what happens when a sub-par "Hamlet" rip-off hits a stage near the Globe Theatre, and members of Shakespeare's acting troupe, the King's Men, try to put an end to the plagiarism and save Will's works for the ages. The play shows through Saturday, and again May 31–June 3. Tickets are $7–$15. Info: tickets.wwu.edu.
An Improvised Musical
7:30 p.m., The Upfront Theatre, 207 Prospect St.
"The Puget Sound of Music" features script-less musicals Fridays and Saturdays through May. At 9:30 p.m., stick around for Upfront Classic. Tickets are $10–$16. Info: theupfront.com. 
The Afterglow Comedy Hour
9 p.m., Stemma Brewing Co., 2039 Moore St.
Nikki Kilpatrick hosts this monthly stand-up comedy show, which features six comedians performing sets in the one-hour show. Tonight features Allison Fine, Matt Benoit, Dan Hurwitz and Gus Harper, with Natalie Holt starring. Tickets are $10; advance purchase is recommended. Info: stemmabrewing.com.  
Saturday, May 27
Artists' Spring Studio Tour
10 a.m. to 5 p.m., throughout Lummi Island
On Saturday and Sunday, more than 30 artists and craftspeople will be showing and selling their work at 24 locations around the scenic land mass. Peruse paintings, drawings, prints, photography, pottery, knitwear and more, and meet the artists in person. Entry to the self-guided tour is free. Info: lummi-island.com. 
Whatcom Memorial Day Parade
Noon, downtown Bellingham
The 101st iteration of this parade will start at the intersection of Alabama Street and Cornwall Avenue. The non-political family event showcases Whatcom County communities, including commercial entries, schools, fire/law enforcement and all branches of the armed services. Info: whatcommemorialdayparade.com. 
Sunday, May 28
Fairhaven Festival
11 a.m. to 7 p.m., throughout historic Fairhaven
Live music and events, food and drinks, family fun, an artisan market and much more will be part of this annual event, which takes place near the last leg of Ski to Sea. Entry is free, and all are welcome. Info: enjoyfairhaven.com. 
CC Adams Band
1–4 p.m., Gilkey Square, La Conner
A summer-long series of live music, La Conner Live, begins today at this outdoor concert featuring vocalist Mary Ellen Lykins. Expect to hear blues, R&B, "tasty rock" and pop. Concerts continue Sunday afternoons through Sept. 10, and are free to the public: Info: facebook.com/LaConnerLive. 
Thursday, June 1
Mountain Film Festival
Through Sunday, Concrete Theatre and beyond
Feature-length movies, documentaries, multimedia presentations, photography workshops, live music, special guests and more will be part of this four-day event. Tickets are $10–$20. Thursday's opening event is free. Info: mountainsonfilm.com. 
Friday, June 2
Blast from the Past
Through Sunday, throughout Sedro-Woolley
"Vintage 1973" will be the theme of this communitywide event featuring a vendor fair, live music, sidewalk sales, decorating and costume contests, a fun run, a car show, events for kids and more. Info: sedro-woolley.com. 
Orcas Island Lit Fest
5 p.m., Eastsound, Orcas Island
This two-day event kicks off with a free Lit Walk taking place at various venues in Eastsound. The event continues Saturday with a Lit Fest at the Orcas Center featuring panel discussions, readings and interviews with acclaimed authors. Word Play, an evening of songs and stories, ends the event. Ticket prices vary. Info: oilf.org. 
First Friday Artwalk
6–8 p.m., downtown Anacortes
MoonWater Arts, One Realty, The Majestic Inn and Spa, Scott Milo Gallery (and the studios above the gallery), City Hall, Squirrelwerks Studio, Trinity Skate, Fidalgo Fudge, Ink and Wool, and Clayhouse Ceramic Studio will be among those opening their doors for the free monthly event. Info: anacortesart.com. 
Summer Sips
6–8:30 p.m., downtown Mount Vernon
Enjoy in-store specials and events; Washington wine, beer and cider tastes at select locations; and visit a Pop-Up Bottle Shop and take a bottle or two of your favorite sips home to share at your next summer barbecue. Tickets are $25 in advance, $35 at the door (if available). VIP tickets are $40. Info: downtownmountvernon.org. 
First Friday
6–10 p.m., downtown Bellingham
Attend this monthly celebration that showcases local artists and galleries, places to dine and sip, late-night shopping events, live music and more. Fresh programming takes place each month. Entry is free. Info: downtownbellingham.com. 
'Spelling Bee'
7 p.m., New Prospect Theatre, 207 Prospect St.
Bellingham Arts Academy for Youth presents showings of "The 25th Annual Putnam County Spelling Bee" Friday through Sunday at this venue, then again June 9–11 at the BAAY Theater. Tickets are $12 to see the Tony Award-winning Broadway musical focusing on an eclectic group of tweens hoping to win the spelling championship of a lifetime. Info: baay.org. 
Saturday, June 3
Bellingham Scottish Gathering
9 a.m. to 6 p.m., Grandview Acres, Ferndale
This fourth annual event celebrating Scotland's culture will feature competitive bagpipe, drum, bands, dancing and athletics, as well as Scottish breed animal displays. The year the unicorn is the mascot. Entry is $18. Info: scottishdancesociety.org. 
Artists' Studio Tour
10 a.m. to 5 p.m., throughout San Juan Island
Saturday and Sunday, take a free, self-guided tour of 17 working studios with 47 participating artists in Friday Harbor and beyond. This is an opportunity to crisscross the island's scenic roadways and view unique studios tucked into lovely gardens and vistas. Catch the ferry in Anacortes. Info: sanjuanislandartists.com. 
Youth Pride Parade and Festival
10:30 a.m. to 2 p.m., Bellingham High School, 2020 Cornwall Ave.
The Whatcom Youth Pride Coalition invites LGBTQIA+ youth and youth allies to walk together through a short parade route while the community stands along the sidelines and cheers them on. The ensuing festival will feature tabling resources, music and performances, and food trucks. Info: whatcomyouthpride.com. 
Fidalgo Youth Symphony
1 p.m., McIntyre Hall, Mount Vernon
"Nordic Sounds" will be the focus of this concert featuring senior soloists who have earned star status by faithful participation in years of rehearsals and performances. Each will play a solo accompanied by the symphony. Music from Norway, Finland, Russia and Sweden will also be on the lineup. Entry is $5–$15 (children under 5 are free). Info: mcintyrehall.org. 
Saturdays with the Symphony
3 p.m., Whatcom Museum's Lightcatcher Building, 250 Flora St.
Head to the Family Interactive Gallery to hear kid-friendly performances from members of the Bellingham Symphony Orchestra. Attendees will meet a musician, hear them play, and participate in a related art activity. Entry is included with museum admission. Info: whatcommuseum.org. 
Community Ukulele Players
3 p.m., Jansen Art Center, 321 Front St., Lynden
This longtime ensemble will perform everything from Americana folk to contemporary standards with an exuberant vocal and instrumental repertoire known to span genres, moods and decades. Entry is by donation. Info: jansenartcenter.org. 
An Evening of Belly Dance
6:30 p.m., FireHouse Arts and Events Center, 1314 Harris Ave.
Local and regional dancers will present "raqs sharqi" (oriental dance), fusion and Iraqi dance at this event. Performers include Rachel Carter, Kathleen Houseman, Damiana Dance Company, Lara Victoria and drummer David B. Metz. Tickets are $20. Info: firehouse-aec.com. 
Sunday, June 4
Bellingham Symphony Orchestra
3 p.m., Mount Baker Theatre, 104 N. Commercial St.
The final concert of BSO's 47th season, "Transported," will feature soloists Dawn Posey (violin) and Amber Archibald-Sesek (viola). The three signature pieces will be by Mozart, Bacewicz and Respighi. Tickets are $15–$49. Info: mountbakertheatre.com. 
Depot Comedy Club
8 p.m., Aslan Depot, 1322 N. State St.
Gabriel Rutledge, a past winner of the Seattle International Comedy Competition, will be the highlighted stand-up comedian at this monthly event. Cameron Mazzuca and Vanessa Dawn will also be featured, and Ricci Armani will host. Tickets are $20. Info: aslanbrewing.com. 
Before heading out to attend in-person happenings, check with individual venues to make sure the event is still taking place as scheduled.
The A-List appears weekly on Wednesdays. To submit an event for consideration, email calendar@cascadiadaily.com.